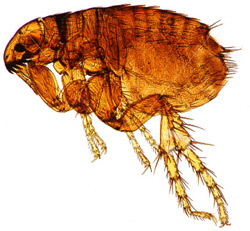 COUNTY OF ORANGE – HEALTH CARE AGENCY PRESS RELEASE
For Immediate Release: September 14, 2011
Contact: Deanne Thompson,  714-834-2178
Endemic Typhus Cases Reported in Orange County
(Santa Ana) – Endemic (flea-borne) typhus, an illness that prior to 2006 was considered rare in Orange County, continues to occur with five confirmed or probable endemic typhus cases reported to the Orange County Health Care Agency in the past three months.
Of the recent cases, four are adults and one is under 18 years of age. Endemic typhus is transmitted by the bite of infected fleas, in particular those from cats, opossums, and rodents, although other animals may carry the fleas. The most recently affected individuals live in the northern part of the county, but because these animals are present throughout the county, human cases may occur in any area. Typhus occurs naturally in Southern California, with eight cases reported in Orange County for 2011 to date, six each in 2010 and 2009, 15 in 2008, six during 2007 and one in 2006. Prior to 2006, the last case reported in Orange County was in 1993.
Symptoms include fever, headache, muscle ache and rash. Typhus is not transmitted from person to person, and is treatable with antibiotics. Diagnosis is made through a blood test. Controlling fleas in and around your home is the key to preventing typhus. Orange County residents can help prevent typhus cases by:
Treating pets and other domestic animals regularly with flea prevention medications. Consult your veterinarian for recommendations.
Avoiding contact with opossums, rodents, feral (wild or stray) cats and other animals that may have fleas.
Sealing off openings to attics and crawl spaces (including under trailers and mobile homes) and keeping vent screens in good repair to prevent wild animals from gaining access to houses and other structures.
Reporting dead opossums, cats or other animals to your local Animal Control agency for removal.
Removing or trimming overgrown vegetation or ground cover where wild animals may hide or nest.
Keeping trash cans covered at all times and eliminating outdoor food and water sources including pet food, bird feeders, and fallen fruit from trees.
The Orange County Health Care Agency coordinates the investigation of reported typhus cases with the Orange County Vector Control District and Orange County Animal Care. Information about typhus is available on the Health Care Agency's website at http://www.ochealthinfo.com/epi/typhus/ and has been distributed to Orange County hospitals, urgent care centers and interested health care providers.
# # #