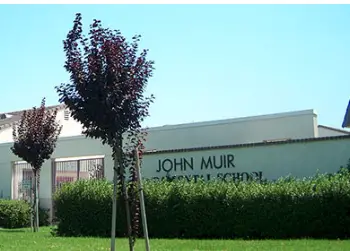 FOR IMMEDIATE RELEASE Contact: Angela Burrell, APR, (714) 558-5555
SAUSD Schools Get Top National Blue Ribbon
Status Muir Fundamental and Thorpe Fundamental Elementary Schools Are Two of Four Recognized Countywide
SANTA ANA, CA — September 15, 2011 – Two Santa Ana Unified School District (SAUSD) elementary schools have been declared tops in the nation. The U.S. Secretary of Education Arne Duncan today has named both Muir Fundamental Elementary and Thorpe Fundamental Elementary School as National Blue Ribbon Schools. They are among 304 nationally and two of only four in Orange County to receive this meritorious honor this year.
The National Blue Ribbon award recognizes public and private elementary, middle and high schools that are either academically superior, or have made dramatic gains in student achievement and progress in closing the gaps in achievement among minority and disadvantaged students. This is the third consecutive year that an SAUSD school has earned this national distinction. Middle College High received the award in 2009, followed by Harvey Elementary School in 2010, and now Muir Fundamental and Thorpe Fundamental in 2011.
"America's long-term economic prosperity and civic engagement depends on our children receiving a world-class education," Duncan said. "National Blue Ribbon Schools are committed to accelerating student achievement and preparing students for success in college and careers. Their success is an example for others to follow." The schools will be honored in a national ceremony on Nov. 14-15 in Washington, D.C. A list of the 2011 National Blue Ribbon Schools is available at http://www.ed.gov/nationalblueribbonschools. For more information about SAUSD schools, log on to www.sausd.us.
###