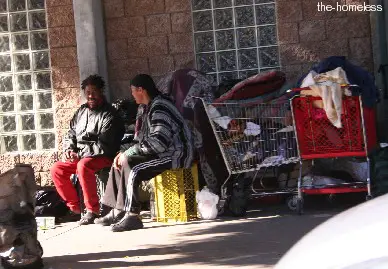 The Orange County Vector Control District has put the spraying of insecticides in Santa Ana on hold due to the ongoing hot weather, as reported on their website.
They are picking on Santa Ana because our city has allegedly had 40 West Nile Virus infections, which is the highest number of infections of any city in the county, according to county data.
But hold on a minute – it turns out that the reason we have had more West Nile Virus infections is not our population at large but rather one specific demographic – the homeless.
The non-profit Community Action Partnership of Orange County distributed 2,600 packets of insect repellent on Saturday and Sunday, during the Fiestas Patrias event in Downtown Santa Ana, to protect the homeless at the Civic Center.
"Homeless people are particularly at risk because they're sleeping outdoors," said Mark Lowry, director of the Orange County Food Bank, which operates under the umbrella of the CAP, as reported by the OC Register.
The packets were donated by Orange County Vector Control, according to Lowry.
Why in the world didn't OC Vector Control do this in the first place?  Why did they have to scare everyone in Santa Ana with threats of spraying when the real target of their efforts should have been the homeless?
The reality is that OC Vector Control does this sort of thing periodically to justify their massive budget.  This is why we have suggested that OC Vector Control should be folded into the OC Health Care Agency.  That agency tracks disease outbreaks in Orange County.  They would know that the infected residents are the homeless and would as such be in a better position to target the problem.
Our City Council should demand that the OC Vector Control District continue to focus their local efforts on the homeless instead of needlessly spraying our homes.
And, as we have reported before, the Center for Disease Control says that:
Fortunately, most people infected with WNV will have no symptoms. About 1 in 5 people who are infected will develop a fever with other symptoms. Less than 1% of infected people develop a serious, sometimes fatal, neurologic illness.
The OC Vector Control District has reported that 80% of local mosquitoes are already infected with the West Nile Virus.   What that means is this war is over.  The mosquitoes are practically all infected.  So what we really need to do is clear overgrown landscaping in our backyards, get rid of any standing water, seal our windows and make sure the screens are in decent shape, and use mosquito repellent if we are out late or in the early morning.  We don't need to spray our homes!
The OC Vector Control District needs to focus on protecting the homeless and if they want to broaden their efforts they must consider alternatives to spraying.
If you are want to make sure the spraying doesn't' happen, here is who you should contact: