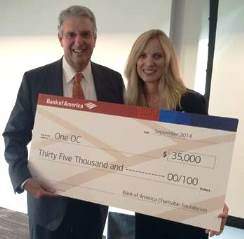 Bank of America Awards $155,000 in Grants to 6 Santa Ana Nonprofits Supporting Community Development 
Irvine, CA – Bank of America recently provided 12 Orange County nonprofits supporting community development a total of $305,000 in grant funding. Six of the nonprofits are in the local Santa Ana area and received a total of $155,000 in funding:
• Arts Orange County
• Discovery Science Center of Orange County
• Habitat for Humanity of Orange County Inc.
• Latino Center for Prevention & Action in Health & Welfare
• Pacific Symphony Association
• OneOC (formerly Volunteer Center of Greater Orange County Inc.)
Community development, along with workforce development and basic human services, are top priorities for Bank of America because there is significant need in these areas in the Inland Empire and across the country. One recipient, Jamboree Housing, will use the grants to continue to provide local residents with access to affordable housing.
"When people in Orange County have access to affordable housing and financial education, the community has a better chance of succeeding," said Orange County Market President Allen Staff, Bank of America. "Building on years of investment, we are working to address community development needs because we know it's a critical part of helping people start down a path to financial stability."
For more information on nonprofit programs and services that may qualify, or to submit an application for grant funding, please visit www.bankofamerica.com/foundation.
Bank of America Corporate Social Responsibility
Bank of America's commitment to corporate social responsibility (CSR) is a strategic part of doing business globally. Our CSR efforts guide how we operate in a socially, economically, financially and environmentally responsible way around the world, to deliver for shareholders, customers, clients and employees. Our goal is to help create economically vibrant regions and communities through lending, investing and giving. By partnering with our stakeholders, we create value that empowers individuals and communities to thrive and contributes to the long-term success of our business. We have several core areas of focus for our CSR, including responsible business practices; environmental sustainability; strengthening local communities with a focus on housing, hunger and jobs; investing in global leadership development; and engaging through arts and culture. As part of these efforts, employee volunteers across the company contribute their time, passion and expertise to address issues in communities where they live and work. Learn more at www.bankofamerica.com/aboutand follow us on Twitter at @BofA_Community.
For more Bank of America news, visit the Bank of America newsroom. www.bankofamerica.com
# # #