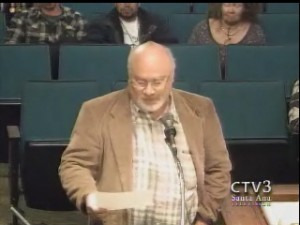 Why should Santa Ana Occupy care about affordable housing?  
Their leader is a wealthy lawyer who lives in Brea!
About 40 members of Santa Ana Occupy showed up at Santa Ana's City Council last night.  Thanks to them the meeting went on until midnight.  In the end the City Council rejected their demand to camp out at night on city property.
That much you know by now – but did you know that the Occupy members also completely failed last night – when they were given an opportunity to help the "99%?"
That's right.  The City Council finally voted on an ordinance that would force developers to include affordable housing in their residential developments.
My friend Sean Mill was asked by the Santa Ana Planning Agency to speak on behalf of the affordable housing measure.  Unlike the Occupiers, who sat on their hands, Mill got up and gave an impassioned speech – pointing out how far the City Council has come since the old days, when Republicans dominated the Council and you weren't allowed to say "affordable housing" at City Hall.
Mill then pointed out the obvious – that the building industry must be OK with the measure since no one from the BIA – the Building Industry Association – was there to oppose the proposed ordinance.
At NO TIME did the Occupiers speak up even when Santa Ana Mayor Pro Tem Claudia Alvarez went nuts and denounced the ordinance, saying that since the BIA was not there, the Council could not proceed.  Luckily Council Members Vince Sarmiento, David Benavides and Sal Tinajero, as well as Michele Martinez, all pounced on Alvarez.  Sarmiento in particular completely destroyed her lame argument.
In the end the only ding dong who voted against the ordinance was disgraced Councilman Carlos Bustamante – who apparently will continue to stick to his Republican playbook as he finishes what will surely be his final term on the City Council.
The Occupiers had a chance to stand up for working families.  They had a chance to say that they too support affordable housing.  They had a chance to rip the developers.  Instead they sat on their hands and SAID NOTHING.
As I have said from the start, these folks might have their hearts in the right place, but they don't know the issues in my city, they have no clue about much of anything, and their revolution is actually pretty lame.