This guy says he is almost homeless…
UPDATE: The Santa Ana City Council rejected Santa Ana Occupy's request to camp out in Downtown Santa Ana, according to O.C. Register reporter Andrew Galvin, who commented on his Facebook page.  The Council meeting lasted until midnight but turned out to be an epic fail for Santa Ana Occupy, as we predicted earlier.
The Santa Ana City Council just got underway a few minutes ago.  The Council Members are still giving away various awards and commendations.  It could be awhile before Occupy Santa Ana gets to argue that the City should allow them to camp out at night…
I will be watching the meeting from home and you are invited to comment as the meeting unfolds.
Click here to watch the meeting online, live.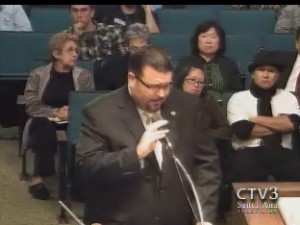 Planning Commissioner Sean Mill is there tonight as well to speak in support of a new Affordable Housing Ordinance.  Bravo Sean!
Amazing.  Mayor Pro Tem Claudia Alvarez just spoke out against the ordinance.  But Benavides and Sarmiento are supporting it.  Sarmiento says that those who have made a lot of money now have a responsibility to support affordable housing.  Amen!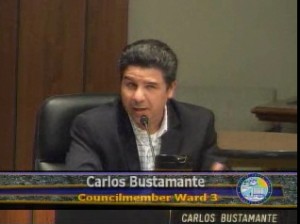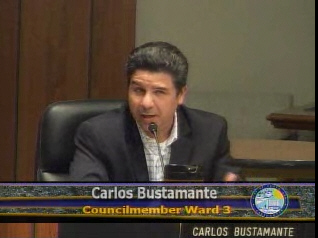 The disgraced Carlos Bustamante just asked for a 30 day continuance.  And Alvarez is harping about the BIA not being there.  What a joke.  Sarmiento just punked Bustamante – saying it is his fault he didn't read the material!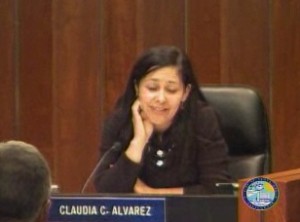 Alvarez says developers need to come in here and have the flexibility to essentially not support affordable housing.  What the heck?  And she says Sarmiento is pandering to the audience?  She has lost it.
Sal Tinajero is now explaining very well what the ordinance is about.  Good job Sal!  And now Michele Martinez is backing him up.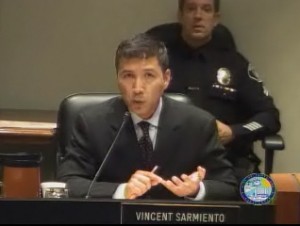 Sarmiento is on fire.  He is right.  The BIA and developers should NOT dictate our policies!
The Council voted and Alvarez ended up going with the majority.  Only Bustamante voted against the ordinance.  What a sad dork he is…
Now the anti-PBID crowd is hammering the PBID board and asking the City Council to get rid of the PBID.  It is sad how these poor folks are getting squeezed.  I doubt they will get two votes from this Council.
The Council is now voting on three motions by Alvarez.  The first one just died.  The second one is for a new PBID election.  Michele seconded it.  Tinajero, Benavides and Bustamante voted it down.  Lastly, she wants to add a process for disestablishment of the PBID, as the state law dictates.  She did not get a second.  The motion died.  Tinajero made a motion to table any  discussion re PBID until May.  It just passed.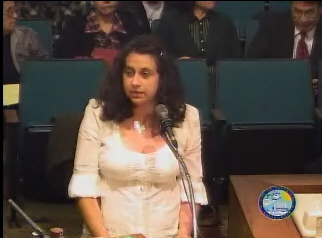 And here we go.  The Occupy Santa Ana speakers are now going off.  The gal pictured above is blasting the City over homeless people.  She says our political leaders are stuck in some kind of bubble.  Weird.
Now she is quoting Cesar Chavez – a guy whose followers often beat up undocumented immigrants.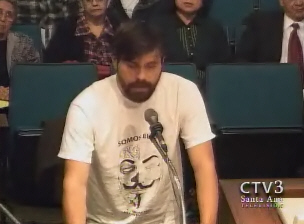 This guy says he lives in Costa Mesa.  He must have got lost this evening.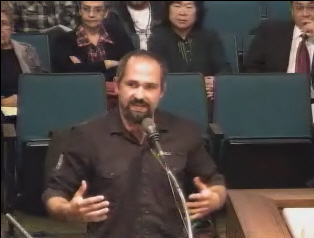 This guy says he lives in the Civic Center.  He says we are all going to end up homeless.  He says we have a right to poverty.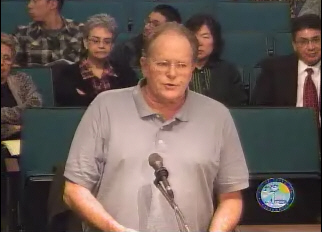 This guy wants Santa Ana to gather information about what cities are dumping the homeless in Santa Ana and how many beds are available to them.  Not sure how he wants to pay for that.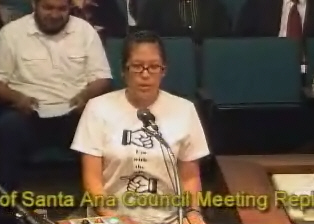 This gal lives in Westminster.  She says she is not an anarchist.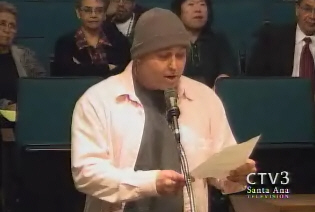 Theo is now going off about a bunch of stuff.  Glad he is finally speaking up for immigrants.  Mayor Pulido just told him he gave a great speech but he asked him to wrap it up.  Theo now asked Santa Ana to be like Irvine.  Barf!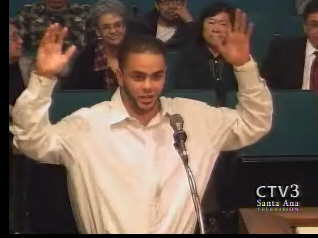 This guy is ready to be arrested.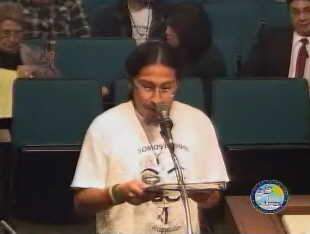 This guy read from the Koran.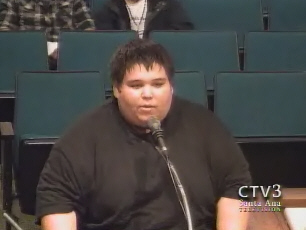 This guy says he is almost homeless.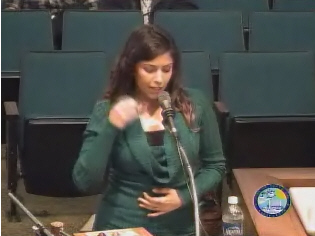 This one says she is a mom who graduated from UCI.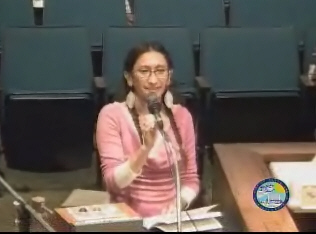 This one says her name is Jenny.  She questions the value of money.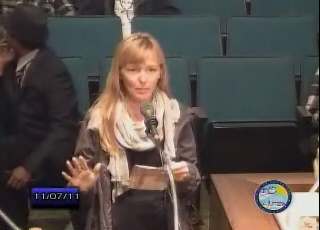 This one says her name is Sarah.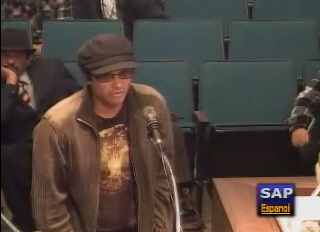 This guy is rambling about branding.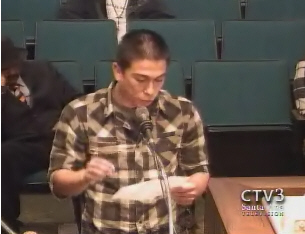 This guy was mad. Not sure what about.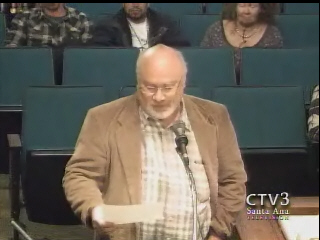 And here is Greg Diamond, the Brea blogger.  He says the problem is the comfortable and the insulated.  Um, Greg?  You look pretty comfy and insulated.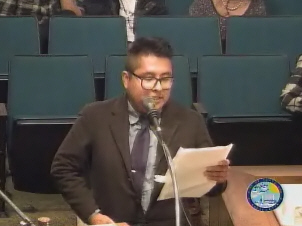 This guy says he is speaking for the elderly and for kids.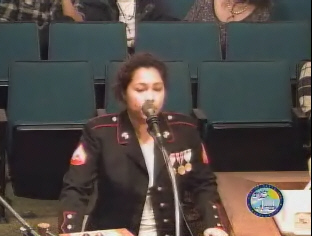 A former Marine who is now part of Occupy.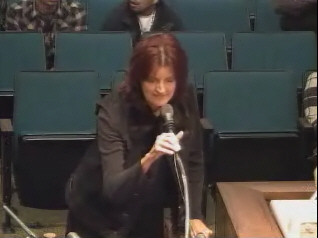 I can't remember what the heck she said.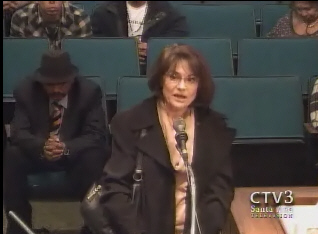 Same goes for this one.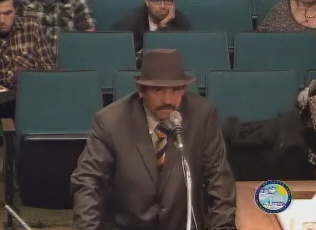 Pulido's pal Alex Vega says he is now part of Occupy.  Aye Dios!
And with that, I am off to bed.  I am confident our City Council will send this bunch packing…