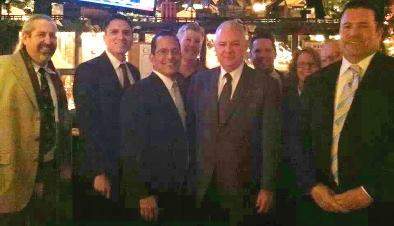 It is hard to believe given that the Santa Ana City Council is entirely comprised of Latinos, but there are only two Latinos serving currently on the Santa Ana Planning Commission.
To make matters worse, five of the seven Planning Commissioners all live in Ward 3 – which lies in the wealthier, whiter North Santa Ana, including the new Chairman of the Commission, Jim Gartner.
Santa Ana Councilman David Benavides represents the heavily Latino Ward 4.  But his Planning Commissioner doesn't live in Ward 4 – and he is not Latino.  Benavides appointed Phil Bacerra – a half-Filipino originally from Garden Grove, to represent Ward 4.  It is highly unlikely that, were you to drop Bacerra into the middle of Ward 4, he would be able to figure out how to get home, particularly since Bacerra doesn't drive.
The only Latinos on the Planning Commission are Eric Alderete and Lynnette Verino.  Alderete is appointed to serve Ward 1, which is represented on the City Council by Mayor Pro Tem Vince Sarmiento.  Verino is appointed to serve Ward 2, which is represented by Councilwoman Michele Martinez, but Verino lives in Ward 5, a heavily Latino area that is represented on the City Council by Councilman Roman Reyna.  But Reyna's Planning Commissioner is Gartner.
Mayor Pulido is represented on the Planning Commissioner by Sandy Nalle, who lives in Ward 3.
There are only two Planning Commissioners who live in the Wards they were appointed to represent.  Bruce Bauer lives in Ward 3 and he represents Ward 3 City Councilwoman Angie Amezcua.  Sean Mill, the Commission's Vice Chair, lives in Ward 6, and he was appointed by Ward 6 City Councilman Sal Tinajero.
Mill and Alderete generally stand against the worst abuses of the DTSA gentrifiers.  For that they are often maligned by Bacerra and Bauer.  Alderete was in fact voted out as Chairman this week when a gentrification majority took shape on the Planning Commission, led by Bauer and Bacerra and joined by Verino and Gartner.
You can see a list of all of the City's Commissioners at this link.  Prepare to be disappointed!  In many cases the Wards are represented by people who don't live in the Wards.
Of course the Planning Commission need not be all Latino to do a good job but it strikes us as rather ridiculous that a City like Santa Ana, which remains overwhelmingly Latino, has only two Latino Planning Commissioners.  Surely that is by design?
And now that the gentrifiers have taken over the Planning Commission it won't be long before Bacerra starts harping again about extending bar hours in DTSA to 4 am.
There is no doubt that the gentrification of DTSA has borne some fruits but that has come at the expense of the Latino business owners who were forced out of DTSA to make room for a plethora of hipster bars and restaurants.  With the opening of the 4th Street Market there is now more competition than ever in DTSA – and most likely not enough customers to keep all those bars and restaurants open.  It is a recipe for disaster.
Sadly the capable and experienced Alderete will no longer be at the helm.  And former DTSA bar consultant Bacerra remains on the Commission even though the City Council did not approve him when his appointment came up for renewal.  Until Benavides withdraws Bacerra and replaces him we will be struck with a pro-gentrification Planning Commission majority that does not represent the people of Santa Ana.
Bauer made it a point to push for more women on the Planning Commission when he spoke at their meeting this week, even as he attacked Mill.  More women would be a grand idea.  But I submit that more minorities on the Commission is just as, if not more, important.