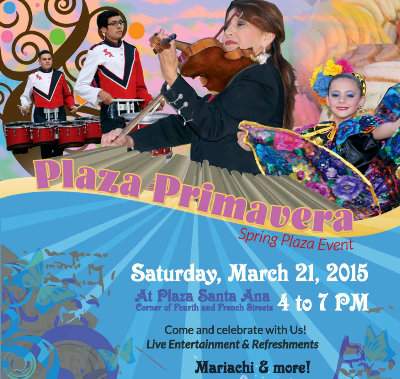 City of Santa Ana
Community Alert: Second Annual Plaza Primavera Celebration – Saturday, March 21 Segunda Celebración Anual de Plaza Primavera – Sabado, 21 de marzo
The City of Santa Ana is excited to announce its Second Annual Plaza Primavera celebration on Saturday, March 21, 2015 at Plaza Santa Ana on the corner of Fourth and French Streets. The event will take place from 4:00 pm to 7:00 pm.
This free community event will feature live entertainment, dance performances, and arts and crafts for kids. Families can enjoy taking pictures with the Spring Bunny.
Light refreshments will be served including pan dulce from the winner of the latest Best Panaderia (Bakery) in Town Contest. Plaza Primavera is a great way to say goodbye to winter and kick-off the spring season at this family friendly community event in Downtown Santa Ana.
For more information visit: http://www.santa-ana.org/parks/upcomingevents/
#######################################
Segunda Celebración Anual de Plaza Primavera
La Ciudad de Santa Ana se complace en anunciar la celebración de su segunda edición anual Plaza Primavera el Sábado, 21 de marzo 2015 en la Plaza Santa Ana en la esquina de las calles Cuatro y French. El evento se llevará acabo de las 4:00 pm a las 7:00 pm.
El evento es gratuito y el público es bienvenido. Plaza Primavera contará con entretenimiento en vivo, grupos de danza y artes y manualidades para niños. Las familias podrán disfrutar de una fotografía con el Conejo de Primavera.
Se servirán refrescos incluyendo pan dulce del reciente ganador del concurso "Mejor Panadería de la Ciudad". Este evento gratuito es una gran manera de decir adiós al invierno y dar comienzo a la temporada de primavera con la comunidad. Venga a disfrutar de una tarde de primavera con la familia en el centro de Santa Ana.
Para más información, visite: http://www.santa-ana.org/parks/upcomingevents/