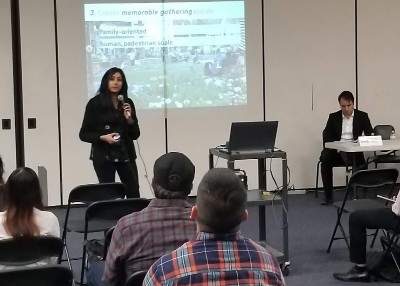 I recently attended a Willowick Golf Course Visioning meeting, at Spurgeon Intermediate. It only took me a few minutes to realize it was a total farce.
The Willowick Golf Course site, located in the City of Santa Ana, California, is a greenfield site situated on
5th Street, adjacent to the Santa Ana River, at 3017 W 5th Street. The property, which consists of eight separate parcels totaling approximately 102 acres,  is owned by the City of Garden Grove. It currently operates as an 18-hole golf course, and is located two miles from the State Route 22 Freeway and four miles from the Interstate 5 Freeway. The site is adjacent to the Santa Ana River on the east, and the Pacific Electric (PE) Right-of-Way on the north, and abuts Garden Grove's Buena Clinton neighborhood, a multifamily residentially zoned neighborhood with multiple two-story apartment buildings and the Willowick Royal Mobile Home Park. To the east across the Santa Ana River, is Spurgeon Intermediate School and Spurgeon Park. Directly to the south, is Cesar Chavez Campesino Park.
The City of Garden Grove has made it clear that they want to develop this property into a mixed use residential and commercial project. But guess what? The land is only zoned currently for open field use. Here is the problem – the Santa Ana City Council is completely beholden to developers. So they want to develop this land too.
The truth though is that our city is woefully short of green space. We badly need more athletic fields – not more development. And why would you want to create retail space when retail companies are reeling as Amazon slowly kills them all?
We need to encourage the Santa Ana City Council to hold firm and not allow this land to be developed. The zoning should stay as it is. Santa Ana should buy the land back and use it for an athletic field complex.
Unfortunately our lame Santa Ana City Council (led by Council Majority Leader Sal Tinajero) already signed on to a Memorandum of Understanding with the City of Garden Grove that embraces development of Willowick.
In my opinion, if any development does happen it should be limited – as much green space as possible should be preserved.
By the way the moderators at the Willowick meeting gave us clickers so they could pose rigged questions with rigged answers. None of their "answers" mentioned that we want green space! The fix was in.
Remember this on Election Day. The candidates who have been bought and sold by developers include Sal Tinajero, Roman Reyna, Nelida Mendoza and Paul Gonzales. Vote for them and we will surely lose the last large undeveloped green space left in Santa Ana.
Editor's Note – Gonzales claims he is not supported by developers but he is endorsed by Tinajero and is running as part of his cabal. The developers most certainly are bankrolling Tinajero and company. You can bet that Gonzales will answer to them too if he gets elected.