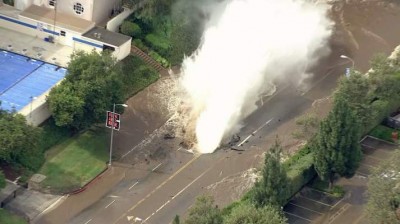 Santa Ana Advisory: TRAFFIC ADVISORY: CREWS REPAIRING EMERGENCY WATER LINE BREAK ON 17TH STREET NEAR ALONA. ALT. ROUTES SUGGESTED
SANTA ANA (October 8, 2014) – Crews have been working throughout the night to repair two emergency water line breaks on 17th Street near Alona. Repairs have been made to one leak and crews are working to repair the second.
Single lane traffic is open on the Westbound 17th Street while Eastbound traffic is free flowing. Due to repairs, alternate traffic routes are suggested. Customers between College to English are out of water.
The City is working hard to repair the leaks and restore services as soon as possible. It is anticipated that repairs and restoration of services will occur at 10am today.
###