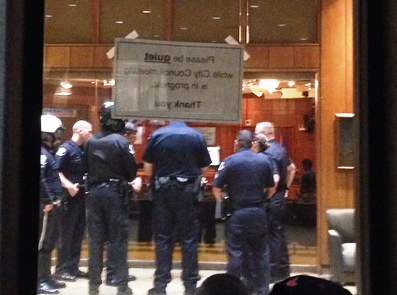 City governments are generally loathe to change but after what happened last night, when a punk wearing an offensive hat, and his creepy homies were able to disrupt the Santa Ana City Council meeting to the point that it ended up being canceled, it is clear that we need to restore order at the Council's chambers.
It actually can be done, without violating free speech, in a few easy steps:
Station a drug-sniffing K9 officer outside the entrance to the Chambers and if he identifies someone that could be under the influence of illegal drugs or could have them on his person, then frisk him and have police officers check out his car.  The miscreant will be carted off to jail if any illegal drugs are found.
Equip police officers with hand-held metal detectors and have them check any visitors who a) don't have business with the city (if they are at the City Council to receive an award or have business with the City then they just have to show I.D. to get in) or b) or are suspicious. Make sure that the decorum ordinance specifies that weapons are not acceptable at Council meetings unless you are a police officer.
Develop Reserved Seating rules:

The first two rows in the Chambers will be reserved for a) those being recognized by the Council, as well as their friends and families, b) members of the media – not including bloggers, c) anyone with business before the City or who is there to make a presentation at the Council meeting, and d) any city employees, or appointed officials or officials from other cities, the County or other public agencies.
Anyone who is a resident of Santa Ana or who owns a business in town and has filled out a speaker card on a subject pertaining to the City Council agenda will be seated in the next two rows.
Anyone who is not a resident of the city and does not own a business in our city will be seated in the last two rows.  The last row will be dubbed the "free speech zone" and anyone with questionable attire or signs will be seated there.
Any remaining seats will be made available to residents or business owners or anyone else who might be there to support a friend or family member who has business with the city or is being recognized.  All will have to show an ID and fill out an attendance card.

Finally the police will conduct both warrant and probation checks on everyone who attends.  If someone is flagged they will be arrested and carted off to jail.
So there you go.  A simple way to regain control of the City Council meetings while allowing the narcissistic, self-absorbed Occupiers and anarchists to have their free speech.  Hopefully a few of them will get arrested, thinning out the pool.