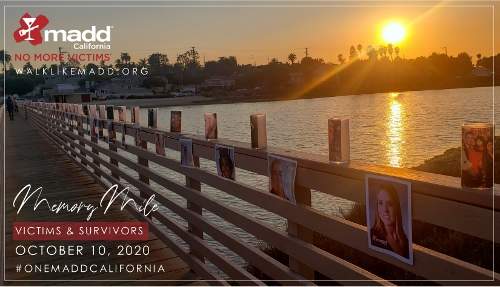 As a tribute to MADD's 40th anniversary, the California State office of Mothers Against Drunk Driving® (MADD) will host its signature event – Walk Like MADD ceremony – virtually on Saturday, October 10th beginning at 12:00 Noon on Facebook/Instagram/YouTube @MADDCalifornia.
"We ask you to join these meaningful virtual events and support our goal of #OneMADDCalifornia to end drunk and drugged driving," said Patricia Rillera, MADD California State Executive Director. "Walk Like MADD gives victims and survivors a safe place to remember their loved ones. Innocent lives are stolen by someone else's careless, reckless decision. There is NO justification to drive impaired – it is a violent crime that leaves scars for life on everyone involved.
Timing for the virtual walk is significant because of the number of DUI related deaths and injuries in the media lately – during a pandemic."
Along with many others, every single one of these deaths are one hundred percent preventable and heightens the need of MADD's Campaign to Eliminate Drunk Driving® to address the ripple effects of driving impaired. With all the options available today — rideshare apps, such as Uber, taxis, public transportation or family and friends who have not consumed alcohol — there's no excuse to drive while impaired.
In 2018, 1,069 people in California were killed in drunk driving crashes. More than 10,000 lives end every year due to this crime. Stopping this starts with every one of us. In fact, two in three people will be involved in a drunk driving crash in their lifetime.
If you would like more information regarding Walk Like MADD virtual walk event, please visit your local area to register, donate, or get more information. You can complete your 5k by walking or running in your own neighborhood, community and parks anytime from October 3rd- October 10th. Walkers and runners should post videos and pictures of their 5k and tag @MADDCalifornia on Facebook or Instagram.
When: Saturday, October 10, 2020
Where: To view the event, simply login to your social media accounts or via link provided below.
Facebook / Instagram @MADDCalifornia
YouTube @MADDCalifornia