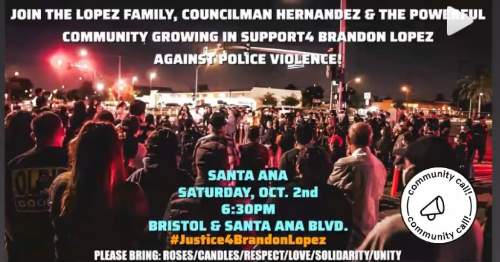 Santa Ana City Councilman Johnathan Ryan Hernandez has announced a vigil to take place this evening, Oct. 2, at 6:30 p.m. at Bristol and W. Santa Ana Blvd., in honor of his cousin Brandon Lopez, who was shot and killed by Anaheim police officers on September 28, 2021, in Santa Ana.
Hernandez continues to state that Lopez was murdered by the Anaheim police officers. It reminds me of what former Obama Chief of Staff Rahm Emanuel once said "You never let a serious crisis go to waste." Hernandez campaigned on slashing funding to the Santa Ana Police Department and now he is clearly using his cousin's death to advance this agenda.
Hernandez has steadfastly stated that what happened to Lopez was a mental health crisis. Was it? Here is what we know so far about what happened to Lopez:
The incident began at about 5 p.m. when Anaheim police spotted the suspect driving a stolen car in Santa Ana.
According to Anaheim police, a chase ensued with the assistance of a police chopper, but officers were forced to pull back due to the suspect's dangerous driving.
Lopez' car was eventually spotted disabled in a construction area at Santa Ana Boulevard and Bristol Street, with the suspect holed up inside.
Santa Ana and Anaheim police SWAT teams responded with crisis negotiators and spent four hours unsuccessfully trying to convince Lopez to surrender.
When that failed, a little before 10 p.m., SWAT teams deployed tear gas to force the suspect out of the car.
Just after he exited the car, Anaheim officers opened fire on him. 
We do not know why the Anaheim officers shot Lopez. We can surmise, based on past incidents, that the officers felt he was armed and believed he posed an immediate danger to them and to the public.
In our opinion it is irresponsible to label what the police officers did as murder without knowing all the facts.
We do know that the car that was reported stolen belonged to Lopez' girlfriend.  The two may have had a fight and she reported it stolen to police, according to Hernandez.
We also know that Lopez had outstanding warrants for armed robberies.
Hernandez also has stated that he believes Lopez may have been on drugs and that he had expressed a desire to die.
While Hernandez has a whole lot to say about mental health his Linkedin Page notes that his only formal education a high school diploma from Santa Ana High School. He has held no less than five jobs since 2019. He has no mental health training or certificates but does have a certificate in "Restorative Practices" from a non-accredited organization.
What happened to Lopez was a tragedy. Apparently he had five children and leaves behind a grieving family. We are sorry for the loss.
Whether or not this was a mental health episode or a drug-induced crime spree will be established once the OC District Attorney and the Anaheim and Santa Ana Police Departments complete their formal investigations.
On a personal level I have to wonder how four hours passed at the crime scene without Hernandez being able to make his case to the SAPD Police Chief. Hernandez is a Councilman – believe me that comes with major perks including having the cell numbers of the Police Chief and the SAPD Watch Commanders. Granted the crime scene belonged to the Anaheim Police Department but then one has to ask why Hernandez was unable to get Santa Ana Mayor Vince Sarmiento to reach out to his counterpart in Anaheim?
Perhaps Hernandez did all those things but if he did not then it was a missed opportunity to intercede before his cousin was killed.
I also found it concerning that several members of the Lopez family were arrested at the crime scene after the shooting when they rushed the scene despite the police officers asking them to stay out of the perimeter. I understand that they felt immense grief but that was an active crime scene and you cannot just ignore the police officers – even if you disagree with them.
If you do go to the vigil this evening the Lopez family asks that you bring: flowers, candles and roses.