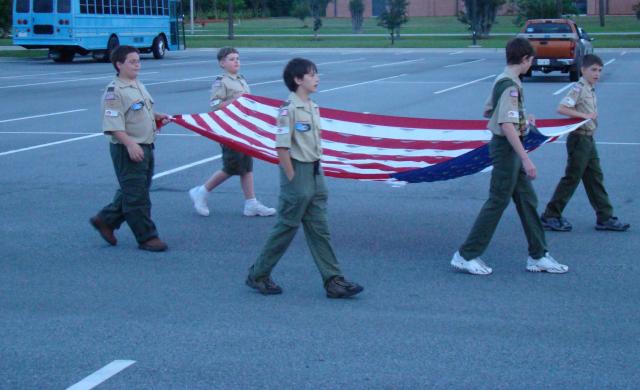 UPDATE: For 2010 Veterans Day events click here.
Veterans Day Memorial & Flag Retirement Ceremony

Boys Scouts of America, Troop 28 of Santa Ana, would like to welcome you to our Annual Veteran's Day Memorial this November 11, 2009. Our Boy Scouts will also lead a Flag Retirement Ceremony. Bring your tattered American flag for a proper retirement if you wish.
When: Wednesday, November 11, at 6:30 PM
Where: Santiago Park in Santa Ana – meet at the fire ring near the Lawn Bowling Courts.
Bring: A bench pad or small blanket if you wish to seat on the concrete amphitheater or you may also bring folding lawn chairs and seat at the back.
Directions: From 17th St. > go north on Main St.> pass Discovery Science Center and turn right on E. Memory Ln.> turn another right on the 2nd traffic signals into the park's creek parking lot.
Questions: email John Vasquez, johnvasquez@juno.com
Also:
Welcome to Applebee's
Veteran's and Active Duty to Obtain Free Entree:
Available during business hours on November 11, 2009 at participating Applebee's only
U.S. Uniform Services Identification CardU.S. Uniform Services Retired Identification Card