Thursday, February 14, 2013
Lobster Asparagus Ravioli& Love Bird Salad . Entree Choice of:Salmon Puttanesca, Chicken Medallions . Pepper Crusted Filet of Beef . Dessert: Cranberry Apple Compote . $50pp+tax+grat
Click here to make a reservation.  Located at 400 West 4th Street, in Santa Ana.
Black Angus – Valentine's Day Special
Thursday, February 14, 2013 11:00 AM – 10:00 PM
Enjoy a delectable Valentine's Day dinner with our Fire-Grilled Steak & King Salmon combo and indulgent Gold Rush Apple Tart with rich vanilla ice cream. Full menu also available. Excludes Tax and Tip. Make reservations here. Special valid on Thursday Feb 14, 2013 from 11:00 AM – 10:00 PM. Offer valid February 14, 2013.
Located at 1350 North Tustin, in Santa Ana.
Share a piece of your heart! Valentine's Day Celebration for Two is just $30. Choose one appetizer, two entrees and one dessert from a special menu. * Limited time only. Some restrictions may apply. While supplies last. Offer details may vary and may not be available at all retail locations. Visit retail location for full details. End date may not reflect actual ending of promotion.
@ Westfield MainPlace, at 2800 N. Main St, in Santa Ana.
5 Course Meal for only $50 per person – including a champagne toast
or try the Anti-Valentine's Day Party in the Red Room, with a live DJ and $6 fresh fruit infusion Martinis!
Located at 227 N. Broadway in Downtown Santa Ana.
$65 per head
option for a wine pairing with each course (additional $24)
-Reservations only-
opentable.com/the-crosby 714-543-3543
-After party-
Stay awhile after dinner for The Dust Collectors (Valentines Day edition). We will be giving away 50 limited edition CD's filled with love songs compiled by The Dust Collectors.
Located at 400 N. Broadway, in Santa Ana.
Thursday, February 14, 2013
$59.99 Person – Including Soft drink, appetizer, entre, and desert . Enjoy relaxing live entertainment . two time sitting are available . 6pm-8pm,8pm-10pm . Reservation required.  Click here to make a reservation.
Located at 3800 South Plaza Drive, in Santa Ana.

A very special day is coming soon – St. Valentine's Day on February 14, 2013.  This time don't make your spouse cook your dinner!  Instead treat your loved one to El Pollo Norteño's Valentine's Day Special – Two Pounds of our extraordinary slow-cooked Carnitas, with our homemade Salsa and Warm Tortillas (Corn or Flour, or Both) for only $17.99 ( not valid w other offers, not valid for delivery).  Use the coupon above!
El Pollo Norteño has two locations in Santa Ana,
at 202 N. Grand Ave. and 1525 W. First St., #A.
Click here for a map to the location at 202 N. Grand Ave., and click here for a map to the location at 1525 W. First St., #A.
Call our location on Grand at (714) 542-0779 and call our location on First at (714) 541-9097.  Or call us toll free at 1-866-MI-POLLO!
Our hours at these locations are:
Santa Ana – Grand Ave.: Monday – Saturday 9:30am-9pm, Sunday: 9:00am-9pm
Santa Ana- First St.: Monday – Thursday 9:30am-8:30pm, Friday – Sunday 9:30am-9pm.
· Here's how it works: Guests choose from unlimited homemade soup or salad and breadsticks, and then select any entrée from the list below. For the third course, guests can choose between Olive Garden's new Chocolate Mousse Cake, Dolcini or Specialty Italian Coffee.
o Entrée choices include: Three-Cheese Pomodoro Ravioli, Grilled Chicken Toscano, Bucatini with Meat Sauce, Parmesan-Potato Crusted Chicken or Penne di Mare
Olive Garden is located at the MainPlace Mall, at 2800 N Main St., in Santa Ana.
14 FEBRUARY 2013
Sending YOU lots of LOVE from Everyone at Original Mike's
College Night

Bikes & beer Thursdays at Original Mike's!!!

Thursday Hip Hop Nights

Come ready to dance!!! Ages 21 & Over Sky Thursdays!!! With DJ Duze with power 106FM and Volo7yl LA 96.3 Hosted By Ralph Kobra

HAPPY HOUR 2-6pm!!!!
Located at 100 S Main St., in Santa Ana.
Valentine's Day Party at Spoons this Thursday at 9 pm, con Los Hermanos Huiguera, Banda Mazatlan, Dj Bebo, Dj Clos,! Cant miss out! Reserve your table now 714-801-8949. $80 Bottles before 10pm and $99 before 10:30. 2601 Hotel Terrace Dr. Santa Ana. 714-801-8949.
VALENTINE'S DAY DINNER AT TANGATA
Thursday, February 14, from 5 PM – 9 PM
Tangata is featuring a remarkable Valentine's Day Dinner and the Bowers Museum will open its galleries for visitors from 5 PM to 8 PM to enjoy the special exhibits of CUT! and Lucy's Legacy. Members receive a complimentary glass of champagne with reservations for dinner at Tangata, plus an extra 10% off in the Gallery Store on Valentine's Day!
Dosis Music Presents:
Celebrating Valentine's day @ Restaurant Tierra Blanca 1502 E. First St., in Santa Ana
Romantic Acoustic Music
Date: Saturday February 16, 2013
Time: 8:00 p.m. to 1:00 a.m.
Dinner optional per person $ 15.00 dls
Dosis Music works with the city of Santa Ana for more than 15 years as providing piano and guitar classes to kids with low income.

MAKE RESERVATIONS! Please call 714.550.0906.
Happy Valentines! We invite you and your loved ones to join us on February 14th, Valentines Day. Velvet Lounge has put together a special Romantic Valentines Dinner for you and a special someone!
Join us for a beautifully selected 3-course gourmet meal.
Included is your choice of:
Salad

 

Chicken, Steak, Fish, or Vegetarian Entrée

Special Valentines Dessert.

 
Compliment your meal with a glass or bottle of some of our great wine selections. All this served with love by our service oriented staff.. to make this a great valentines night. Make your reservations today!
FOR RESERVATIONS: PLEASE CALL 714-232-8727 Ext. 4.  Located at 416 W 4th St., in Santa Ana.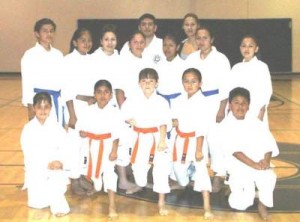 The Te-Kenjutsu-Kan Karate-Do karate organization, of Santa Ana, is having a Valentine's Day Fund Raiser Dinner/Dance on Saturday, February 16th. They will be at their WisePlace Dojo, located at 1411 N. Sycamore, in Santa Ana, from 6:30 pm to 11:00 pm.
The admission price is $15.00 for Adults and $10.00 for children 12 yrs. and under. The price includes Dinner and Drinks (non-alcoholic), DJ, Cumbia Band and Raffle Ticket for door prize. This is a local 501C3 Organization and work with the inner city youth to keep them on the right track.
This dance is to help raise funds for their bi-annual trek to compete in our 50th State, Hawaiian International Karate Championship. Held on the Island of Oahu. The trip is scheduled for the first week of August. They try and takestudents that have never been.
Contact: Pete Mangosing, (714)-745-7801, Chief Instructor, www.te-kenjutsu-kan.com

Join us for Story Time, Entertainment, Crafts & Snacks! February 14 at 4pm, located at the Dining Court, level 1.
Westfield MainPlace
2800 N. Main St, Santa Ana, California 92705.

Date: Friday, 15, 2013
To celebrate Valentine's Day the OC Zoo is inviting couples to be "Wild at Heart" and enjoy two-for-one zoo admission February 14-17. Couples, pairs and any party of two can take advantage of this special Valentine's Day offer.
Spend a day at the OC Zoo with just the two of you or the whole family and learn more about the romantic and friendly animal couples of the zoo. Animal keepers will be presenting special Valentine's Day-themed talks about the animals throughout the days.
Admission to the OC Zoo is generally $2 per person ages 3 years and over with free admittance for ages 2 years and under. This special two-for-one admission offering is available February 14 and 15 from 10 a.m. to 3:30 p.m. and February 16 and 17 from 10 a.m. to 4:30 p.m. The OC Zoo is located inside Irvine Regional Park in Orange. Parking is $3 per vehicle on weekdays and $5 per vehicle on weekends.
Regular entry fee: $2; two-for-one for this promotion.
Parking: $3 weekdays, $5 weekends.
Contact: (714) 973-6847