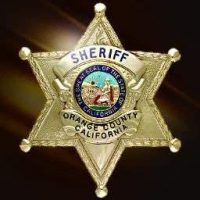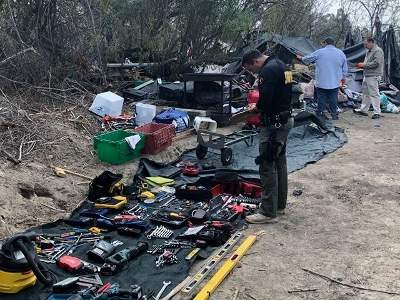 Two arrested after OCSD uncovers stolen tools and equipment stashed in homeless encampment
MISSION VIEJO, Ca. (Oct. 12, 2018) – Two men are in custody after Orange County Sheriff's deputies found thousands of dollars' worth of stolen tools and equipment stashed in a homeless encampment in the city of Mission Viejo.
Members of the Orange County Sheriff's Department South Homeless Outreach Team on Wednesday, Oct. 3, contacted two men living in an encampment tucked away near Avery Parkway and Camino Capistrano.
Deputies found both men had outstanding warrants and were in violation of their probation. Upon investigation, deputies found a large amount of tools and equipment that were labeled "CUSD."
In August, the Capistrano Unified School District had filed a report that multiple district utility vans had been burglarized. The loss was estimated at approximately $20,000.
Items found at the encampment included drills, socket wrenches, hammers and levels, among other equipment. Many of those items were branded with the district's acronym.
OCSD personnel on Tuesday, Oct. 9, and Wednesday, Oct.10, performed final walkthroughs of the encampment with representatives from the school district to ensure all potentially stolen items had been collected.
Investigators estimate approximately $8,000 worth of tools and equipment was recovered and returned to the Capistrano Unified School District. The investigation into the theft is ongoing.
"We are grateful for the service and dedication of the men and women of the Orange County Sheriff's Department," said Ryan Burris, Chief Communications Officer for the Capistrano Unified School District. "The return of these valuable tools was a surprise and just one example of the incredible work they perform every day to keep our students, families, schools and communities safe."
Joseph Paul Eberhardt, 40, and Randall Leon Prince, 58, were arrested on suspicion of felony probation violations. Both men are in custody at the Orange County Jail and are ineligible for bail.
"The South Homeless Outreach Team partners with many community and health care organizations to proactively engage homeless individuals and connect them with appropriate resources," said Lt. Quyen Vuong, Chief of Police Services for Mission Viejo. "We have to balance outreach with enforcement and these arrests point to the team's valuable role in keeping our community safe."