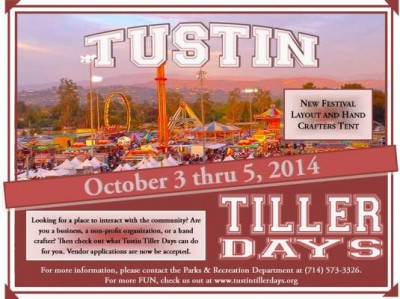 The 57th Annual Tustin Tiller Days will be held on: October 3rd, 4th, and 5th, 2014.  The hours the festival will be open are:
Friday, October 3rd: 4:00 PM – 11:00 PM
Saturday, October 4th: 11:00 AM – 11:00 PM
Sunday, October 5th: 11:00 AM – 8:00 PM
Note: Carnival will remain open until 10:00 PM on Sunday.
Parade: Saturday @ 10:00 AM.  The parade will start at the corner of Main and Pacific and end at Prospect and Beneta at the Festival Grounds.
EVENT ADDRESS: 17522 Beneta Way, Tustin, CA 92780. Free parking along city streets where allowed.  Parking at the event is $7.  This is a fundraiser for Columbus Tustin Middle School.
A pancake breakfast will be served on Saturday, Oct. 4, 2014, from 7:30 am to 9:30 am at the Tustin Library Courtyard.  $5 per person for pancakes, sausage, eggs, orange juice and hot coffee.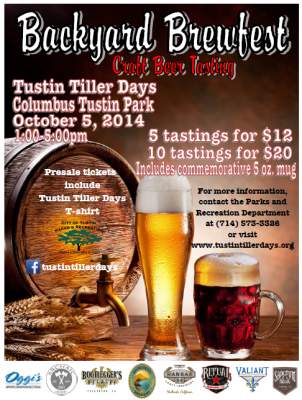 A Backyard Brewfest featuring craft beer tasting is set for October 5, 2014, from 1 to 5 pm.  Get five tastings for $12 or 10 tastings for $20. This includes a commemorative 5 oz. mug.  For more info contact the Tustin Parks and Rec Department at 714-573-3326 or click here.
Event t-shirts will be available for only $7 at the information booth.  Past year's shirts will be on sale for $5.
Tustin Tiller Days has been a community event in Tustin since 1957. The three day event provides an opportunity for the community to celebrate Orange County's agricultural heritage. It is also an opportunity for local non-profit groups to raise funds. Over the years, local civic organizations, school, churches, and youth groups have raised funds to benefit a wide variety of local needs.