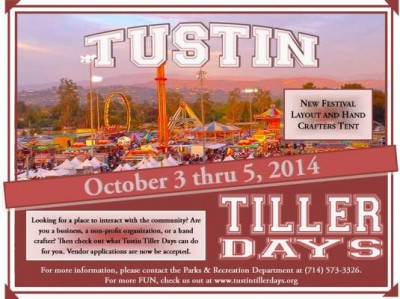 The 57th Annual Tustin Tiller Days will be held on: October 3rd, 4th, and 5th, 2014.  The hours the festival will be open are:
Friday, October 3rd: 4:00 PM – 11:00 PM
Saturday, October 4th: 11:00 AM – 11:00 PM
Sunday, October 5th: 11:00 AM – 8:00 PM
Note: Carnival will remain open until 10:00 PM on Sunday.
Parade: Saturday @ 10:00 AM.  The parade will start at the corner of Main and Pacific and end at Prospect and Beneta at the Festival Grounds.