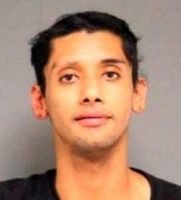 Pedro Frias, 21, of Tustin, was arrested today on suspicion of committing a lewd act on an underage girl at park in Tustin on Wednesday, according to the O.C. Register.
Frias tried to expose himself to the girl but she was able to escape following a "brief struggle," police said in a statement. Once she was out of the restroom, she ran to her father and he called 911, according to KTLA.
The victim was in the women's restroom at Columbus Tustin Park, on the 14700 block of Prospect Avenue, when Frias encountered her at about 3:25 p.m. He allegedly attempted to expose himself to her, according to the Tustin Police Department.
After a brief struggle the girl managed to escape and tell her father what had happened. He quickly called the police and the suspect fled.
Police officers later found Frias hiding behind a car. He then tried to run away but was caught and arrested.
Frias was booked on suspicion of committing child molestation, an attempted lewd act on a child and false imprisonment, according to the Tustin Police. They also reported that Frias has a prior criminal history and is on probation.
Any witness or other victims are encouraged to call Tustin Police investigators at (714)-573-3372.