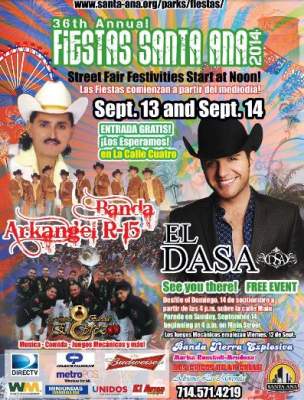 City of Santa Ana
Community Alert: Thousands Expected at 36th Annual Fiestas Santa Ana Weekend Event & Parade on September 12-14
SANTA ANA, CA (September 9, 2014) – Thousands are expected to converge on the City of Santa Ana for the 36th Annual Fiestas Santa Ana Weekend Event & Parade on Fourth Street. The festivities begin on Friday, September 12 at 5:00pm with carnival rides provided by Christian Amusements. The street fair will be held on Saturday and Sunday starting at noon with great food, information booths and cultural products for sale.
Entertainers include Banda Arkangel R-15, El Dasa, Banda Tierra Explosiva, Marisa Ronstandt-Mendoza, Los Chicos de la Calle, and Adriana La Morenita.
A major highlight which is expected to draw thousands more is the City's annual Fiestas Parade on Sunday, September 14 from 4 pm to 6 pm. Over 120 parade entries will be showcased in this year's special theme "Our Pride That Unites Us." The Fiestas Parade will wind through Civic Center Drive and Main Street in Downtown Santa Ana and will be a celebration of art and culture for all ages.
The City of Santa Ana is proud to announce that there will be three Grand Marshalls including Disney's Mickey Mouse for the children in attendance and the grand marshal for exemplary service to the community is Dr. Cristina has a Ph.D in Education Psychology from the University of Michigan and received a National Service Award in 1994 by President Bill Clinton.
The celebrity grand marshals for the parade will be Noticiero Telemundo 52 anchors Edgar Muñoz and Ana Patricia Candiani.
For more information, visit santa-ana.org/parks/fiestas.
###