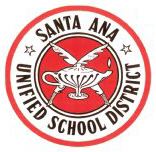 FOR IMMEDIATE RELEASE
Contact: Josie Amador, 714-558-5555
SANTA ANA UNIFIED SCHOOL DISTRICT CELEBRATES OUTSTANDING EDUCATORS OF THE YEAR
SANTA ANA, CA — May 7, 2014 – Six deserving educators will be honored at the annual "Educator of the Year" ceremony for the Santa Ana Unified School District on May 8, 2014. The event, to be held at Santa Ana High School, celebrates all school site teachers and support services educators, as well as the six district-wide educators.
The "Educator of the Year" program is an opportunity to recognize outstanding teachers for their commitment and for the difference they make in the classroom. During the week of May 5 – 9, 2014, educators will be celebrated with a variety of programs and activities as part of the National Teacher/Support Staff Appreciation Week.
The goal of the Santa Ana Unified School District is to provide a world-class learning community where all students are college and career ready. This could not be done without the teachers who are the primary contact with students. This celebration is to honor them and to let them know that student success cannot exist without them.
The following are the 2014-15 Santa Ana Unified School District Educator of the Year Recipients:
Teachers of the Year:
• Elementary: Frances Govea-Mckeun, Pio Pico Elementary School
• Intermediate: Caroline Van de Merghel, Willard Intermediate School
• High School: John Ninofranco, Godinez Fundamental High School
Support Staff Educators of the Year:
• Elementary: Karen Stepanski, Heroes Elementary School
• Intermediate: Kathleen McLean, Willard Intermediate School
• High School: Javier Valdez, Valley High School
###