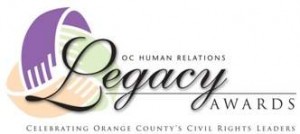 FOR IMMEDIATE RELEASE: May 7, 2014
CONTACT: Rusty Kennedy 714-567-7470
OC Human Relations' Legacy Awards to Honor Orange County's Civil Rights Heroes on May 8
*Commemorating 50th Anniversary of the Civil Rights Act*
In December, 1964, Dorothy Mulkey, an African American Orange County resident, challenged Proposition 14 after a Santa Ana landlord refused to rent a vacant apartment to her family. The ACLU took the Mulkey v. Reitman case all the way to the United States Supreme Court, and in 1967 the court declared Prop 14 unconstitutional. Landlords no longer could refuse to rent to people because of their skin color, religion or ethnicity.
Robert Johnson has been deeply involved in advocacy for fair housing in Orange County since 1966. He worked tirelessly for almost three decades to eliminate segregation of African Americans in the county through the Orange County Fair Housing Council and co-founded the Orange County Community Housing Corporation in 1978 to provide housing for extremely low-income people.
Mulkey and Johnson will receive one of 10 awards to be presented by OC Human Relations at The Legacy Awards: Honoring Orange County's Civil Rights Heroes on Thursday, May 8 at The City National Grove of Anaheim.
"Fifty years ago the struggle for fairness and justice culminated in the passage of the U.S. Civil Rights Act. This milestone in the fight for equality was preceded by years of efforts and followed by five decades of activism to make those ideals true in our communities," said Rusty Kennedy, OC Human Relations' CEO. "OC Human Relations is celebrating some of the iconic people who played an important role in this pursuit of civil rights for all. We hold up these individuals to whom we owe a debt of gratitude for their efforts to stand up and be counted."
The Legacy Awards honorees are:
• Dorothy Mulkey and Robert A. Johnson for their persistent and resolute efforts to ensure fair housing opportunities for all Orange County residents.
• Jean and Frank Forbath are dedicated to making life more bearable for Orange County's poor and marginalized.
• Amin David who founded Los Amigos de Orange County, an organization dedicated to issues and concerns affecting the Latino community in Orange County with the simple motto, "Nos Gusta Ayudar."
• Estrada, Guzman, Mendez, Palomino, and Ramirez, v. Westminster School District, et al, was a 1946 federal court case that challenged racial segregation in Orange County, California schools. Five Mexican American fathers from Orange County, Thomas Estrada, William Guzman, Gonzalo Mendez, Frank Palomino, and Lorenzo Ramirez, challenged the practice of school segregation in the U.S. District Court in Los Angeles.
• Pastor Mark Whitlock founded the Christ Our Redeemer (COR) African Methodist Episcopal (A.M.E.) Church, one of the largest predominately African American congregations in OC with a reputation of speaking truth to power.
• When the civil rights laws of our country fell short of protecting the gay, lesbian, bisexual, and transgender (LGBT) community, Irvine resident Tina Correa did not. Correa made a difference for the LGBT community in Orange County. She became the "comadre" of the voiceless throughout her three decades at the OC Human Relations Commission.
• Mary Anne Foo is the tireless leader and founder of the Orange County Asian Pacific Islander Community Alliance (OCAPICA), a diverse community organization that gives voice to emerging communities.
• Annan Aboul-Nasr works for the Islamic Institute of Orange County (IIOC) in Anaheim. She is an advocate for social justice, especially for the homeless and workers' rights, and represents the Muslim community with interfaith partners.
• While attending Huntington Beach High School, Jennifer Rojas distinguished herself as someone who could bring together movements for justice. As part of OC Human Relations' BRIDGES program she organized initiatives such as Social Justice Week. She served as an intern for the Women's Assistance and Business Association in Accra, Ghana.
• Rabbi Stephen J. Einstein founded Congregation B'nai Tzedek in Fountain Valley in 1976. He has been a voice for intergroup understanding and against hate and bigotry throughout his life. He serves on the boards of the American Jewish Committee and the Anti-Defamation League, an international protector of those targeted by hate crime.
OC Human Relations is proud to partner with Title Sponsor Wells Fargo to present the Legacy Awards.
"Wells Fargo has a history rich in diversity. One of my favorite statements from our Vision & Values booklet is, 'Proper respect must be shown to all—let them be men, women, or children, rich or poor, white or black—it must not be forgotten that the Company is dependent on these same people for its business.' That statement is actually from our first booklet published in 1888. Since then we have only magnified our respect for all people by helping our team members, communities and customers thrive. We are proud to be strong partners with the Orange County Human Relations and to sponsor this year's very special 50th Anniversary of the Civil Rights Act dinner," said Ben Alvarado, Wells Fargo Orange County Community Banking President.
Other Legacy Award sponsors (as of this date) include: Titanium Sponsors: Related California and Southern California Edison; Diamond Sponsors: Southern California Gas Company and Susan and John Reese; Gold Sponsors: Disneyland Resort, Anita Varela and Rusty Kennedy, Chevron, and the University of California, Irvine; Table Sponsors include: Charlene and Ralph Bauer, California Sikh Council, California State University, Fullerton, Carol Turpen, Crevier Family Fund, Christ Our Redeemer AME Church, Jim McQueen, North Orange County Community College District, Orange County's Credit Union, St. Joseph Health Community Partnership Fund, Schools First Federal Credit Union, Sean Thomas and Dan Long, and the OC Department of Education. Individual tickets for the event are $200. For details about sponsorship opportunities, contact Barbara Hunt at (714) 834-7181 or barbara@ochumanrelations.org or visit www.ochumanrelations.org.
For more information about The Legacy Awards and any of the award recipients or to schedule interviews with the honorees, please contact Don Han at (714) 796-8361 or don@ochumanrelations.org.
About OC Human Relations
Since 1971, OC Human Relations has worked to build bridges of understanding to promote a vision of our community where all people are valued and included and our diversity is realized as a source of strength. The Orange County Human Relations Council is a private, non-profit 501(c)(3) organization founded in 1991 for the purpose of developing and implementing proactive human relations programs in partnership with schools, corporations, cities, foundations and individuals. For more information, visit www.ochumanrelations.org or call 714-567-7470. Connect with us on Facebook or follow us on Twitter at www.twitter.com/WeAreOneOC.
About the Civil Rights Act of 1964
The most sweeping civil rights legislation since Reconstruction, the Civil Rights Act, enacted on July 2, 1964, prohibits discrimination of all kinds based on race, color, religion, sex, or national origin. The law also provides the federal government with the powers to enforce desegregation. It ended unequal application of voter registration requirements and racial segregation in schools, at the workplace and by facilities that served the general public (known as "public accommodations").
###