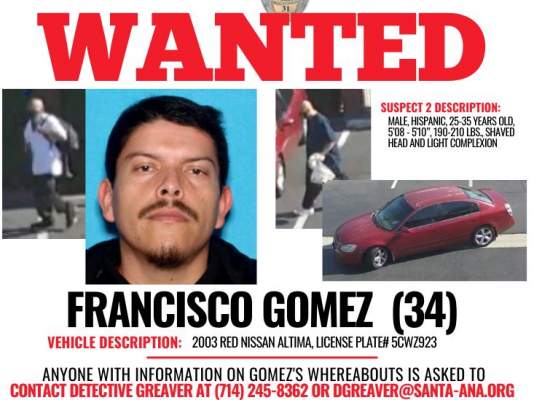 On 08/31/2020, wanted suspect Francisco Gomez and a 2nd suspect entered the victim's motel room while he was asleep.
Gomez woke the victim up by pistol whipping him in the face. Gomez demanded the victim's money as he beat him. Gomez and the other suspect stole all of the victim's property and money.
The victim sustained major injuries to his face and eyes as a result of the attack.
Gomez was stopped at the Hampton Inn Hotel at 2720 Hotel Terrace in Santa Ana, while driving a Nissan Altima soon after the robbery.
The robbery had not been known by officers until after the contact was completed and Gomez was released.
Gomez was found in possession of a replica handgun, which is in SAPD custody. Further investigation revealed Gomez was also in possession of the victim's property.
Anyone with information on Gomez's whereabouts is asked to contact Detective Greaver at (714) 245-8362 or DGreaver@santa-ana.org