Advisory: Santa Ana Police Department Establishes 150 Year City Commemorative Badge

In 2019, the city of Santa Ana celebrates 150 years of cityhood and excellent service to our community. From the city's early years when it was founded by William H. Spurgeon in 1869, to today, Santa Ana has grown into one of the largest cities in the State of California, and serves as the County seat for Orange County.
The Santa Ana Police Department was founded in June, 1886, with one chief and six part-time officers. Today, it is comprised of 383 sworn officers and 266 professional staff who provide continuous professional and dedicated law enforcement services to the members of our community.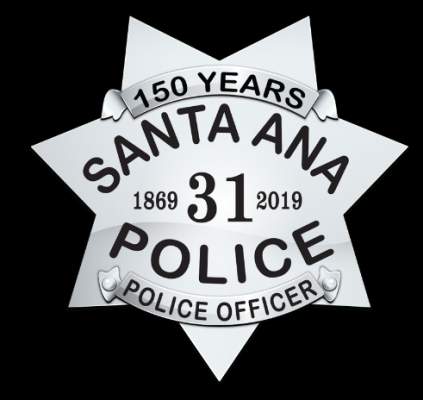 In support and celebration of the city's 150 year commemoration, the Santa Ana Police Department created an anniversary duty badge to commemorate the founding of our city 150 years ago. Santa Ana Police Department personnel will proudly wear the unique commemorative badge throughout 2019, beginning in April. A committee of Department members was established to design the commemorative badge. Design was at no cost to the Department and individual employees will purchase this optional badge. The badge honors the first badges issued to Santa Ana City Constables, the first law enforcement officers in the city.
The City of Santa Ana will be facilitating recognition of its 150th Anniversary throughout 2019.