Advisory: SANTA ANA POLICE DEPARTMENT Releases NEW Community Oriented Policing Framework

The Santa Ana Police Department is proud to release the department's new Community Oriented Policing Philosophy along with its Mission, Vision, and Values.
The Santa Ana Police Department's Community Oriented Policing Philosophy is the culmination of countless hours, thoughtful deliberation and dedication throughout 2018 by a committee of SAPD sworn and professional staff from throughout the police department. The approach used to develop the Policing Philosophy has inherent buy-in, by the community and Department employees.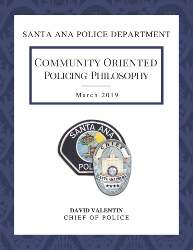 The Santa Ana Police Department collaborated with the Orange County Human Relations Commission (OCHR) to assist in community engagement and the development of the philosophy. OCHR staff co-facilitated community meetings, bringing the community together with members of their police department. The community meetings identified how the police department should deliver police services.
The department's Community Oriented Policing Philosophy framework is also a direct reflection of our re-commitment to community oriented policing, first introduced to SAPD and the City of Santa Ana in the mid-1970's. Over the past 18 months, the department has carefully listened to our community, police personnel and Citywide staff and we know that focus on Teamwork, Excellence, Accountability and Making a Difference matter to the people we serve.
Community Oriented Policing Philosophy Link