The Santa Ana Literary Association will be presenting a new poem by a local poet every week this year. This week's poem is "Fairy Tale Poem #1" and "Fairy Tale Poem #2" by Sean J. Mahoney.
Fairy Tale Poem #1
Sean J. Mahoney
Millions of dead fish on the morning beach.
Large fish, small fish. Fish with rough skins,
fish with dulled colors. I walked among them,
on them; on the firm odor of decay. Down
the beach a piece I saw smoke. And then
I heard popping and the blue sky filled with
red and gray ribbons as air-suspended fish
exploded. What fell back to sand were
smooth glass and shiny plastics.
Fairy Tale Poem #2
My mother often forgets
when my birthday is. And
sometimes she calls me
by my brother's name. Must
be the lights I thought so I
unpinned her from the aurora
borealis and set her down in
fertile soil. Immediately her
toes dug into earth and drew
up water and gold. Her eyes
suffered as sapphires streamed
from them. 2 gophers appeared.
They set a small table with
small chairs. A large umbrella
shaded them as they drank tea
from tiny tea cups discussing
City of Quartz.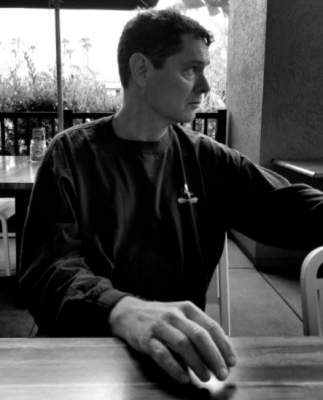 Sean Mahoney lives in Santa Ana, California with Dianne, her mother, 4 dogs, and 4 renters. He believes that Judas was a way better singer than Jesus and that dark chocolate is extraordinarily good for people. His work has been published by Catamaran Literary Reader, Meat for Tea, Denver Quarterly, Wordgathering, F(r)iction, Nine Mile Magazine, Lunch Ticket, and elsewhere. Sean helps run the Disability Literature Consortium booth at the annual AWP bookfair…lit by crips, except 2020 and this year cuz, well…Covid. His chapbook…Politics or Disease, please…is forthcoming (5.22) from Finishing Line Press.