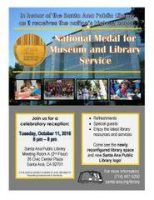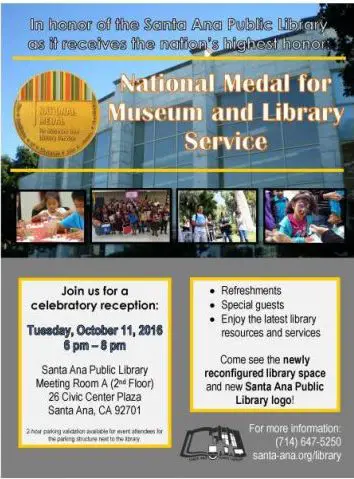 City of Santa Ana, Downtown Orange County
Community: Santa Ana Public Library Celebrates the National Medal
SANTA ANA, CA – To honor the Santa Ana Library for being selected to receive a 2016 National Medal for Museum and Library Service, the Santa Ana Public Library will hold a celebration to commemorate this landmark achievement.
The event will take place on Tuesday, October 11, 2016, from 6:00 p.m. – 8:00 p.m. at the Santa Ana Public Library. Guests will enjoy refreshments, special guest speakers, photo opportunities, and the chance to explore library programs and services. Those who attend will also have the opportunity to share their experiences with the library through interviews conducted by the Library of Congress affiliated StoryCorps. The event will be free and open to the public in gratitude for the community's longtime commitment to the library's mission.
During the event, a special presentation will be made to the winner of the recent library logo contest, Anthony Navarro, a lifelong Santa Ana resident. Mr. Navarro's logo design aligns with the library's vision and it is a symbol of the past, present, and future of the Santa Ana Public Library.
The National Medal for Museum and Library Service is the nation's highest honor given to museums and libraries for service to the community. For 22 years, the award has celebrated institutions that respond to societal needs in innovative ways, making a difference for individuals, families, and their communities. In the spring, Library Operations Manager Heather Folmar and community member Victor Gudiel attended a ceremony at the White House where First Lady Michelle Obama presented them with the award.
In addition to celebrating the award of the National Medal, the Santa Ana Public Library will be welcoming all to enjoy the newly reconfigured space that offers patrons a more open and accessible environment in its Central library. In August the library was closed for a two-week period as staff worked hard to bring the library into this new era.
The Santa Ana Public Library is Located at 26 Civic Center Plaza, Santa Ana, CA 92701 (corner of Civic Center and Ross Street). The library will provide two-hour free parking validation for those attendees who park in the parking structure next to the library.
For more information, call (714) 647-5267 or keep up with the Santa Ana Parks, Recreation and Public Library on social media @SantaAnaPRCSA or visit the Facebook event page.
SANTA ANA, CA – La Biblioteca Pública de Santa Ana tendrá una recepción por el honor de haber sido seleccionada ganadora de la Medalla Nacional 2016 para Museo y Biblioteca. La actividad se llevará a cabo el martes, 11 de octubre de 2016, de 6:00 p.m. a 8:00 p.m. en la Biblioteca Pública de Santa Ana. Los concurrentes podrán disfrutar de refrigerios, hablar con invitados especiales, y tendrán una oportunidad para tomar fotos y explorar los programas y servicios que se ofrecen en la biblioteca. También podrán compartir sus experiencias y recuerdos de la biblioteca con representantes de StoryCrops, una organización afiliada a la Biblioteca del Congreso. El evento será gratuito y está abierto al público en agradecimiento por su continua lealtad y compromiso a la misión de la biblioteca.
Durante el evento, habrá una presentación especial por el ganador del reciente concurso del logotipo de la biblioteca, Anthony Navarro, quien ha sido residente de Santa Ana toda su vida. El diseño del logotipo del Sr. Navarro esta enlazado con la visión de la biblioteca y es un símbolo del pasado, el presente y futuro de la Biblioteca Pública de Santa Ana
La Medalla Nacional de Museo y Servicios Bibliotecarios es el honor más alto de la nación otorgada a instituciones por sus servicios a la comunidad. Desde hace 22 años, este premio honra a aquellas instituciones que responden creativamente a las necesidades sociales impactando así la vida de individuos, familias y comunidades. Durante la pasada época de primavera la Gerente de Servicios Bibliotecarios, Heather Folmar, y Victor Gudiel, miembro de nuestra comunidad, asistieron a una ceremonia en la Casa Blanca donde la primera dama, Michelle Obama, les otorgó el premio.
Además de celebrar el recibimiento de la Medalla Nacional, la Biblioteca Pública de Santa Ana quiere mostrar el recién reconfigurado espacio de la biblioteca; el cual le ofrece a todos un ambiente más despejado y accesible a los recursos de la biblioteca. En el mes de agosto, la biblioteca estuvo cerrada por un período de dos semanas durante el cual el espacio fue transformado en uno más apropiado para una nueva época.
La Biblioteca Pública De Santa Ana esta localizada en el 26 Civic Center Plaza, Santa Ana, CA 92701 (esquina de Civic Center y Ross Street). Aquellos que se estacionen en el edificio de parqueo al lado de la biblioteca, podrán obtener 2 horas de estacionamiento gratis.
Para más información, llame (714) 647-5267 o por los medios sociales de Santa Ana Parks, Recreation and Public Library @SantaAnaPRCSA o visite nuestra página en Facebook: https://goo.gl/500lhr
For full details, view this message on the web.