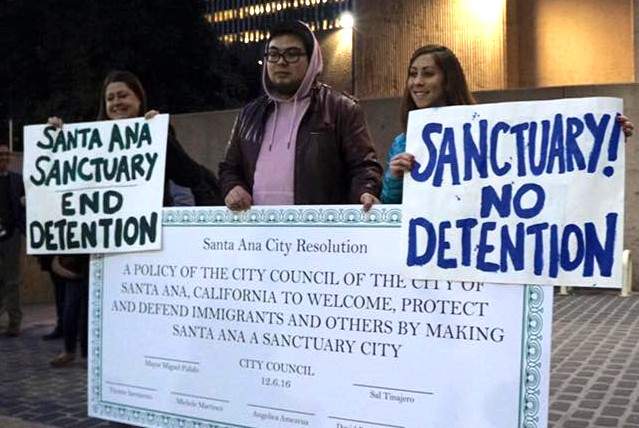 The Santa Ana City Council voted unanimously at their meeting last night to adopt an ordinance declaring itself a sanctuary for all residents regardless of immigration status, according to the O.C. Register.
The ordinance means that the similar resolution passed by the City Council at their last meeting is now going to be a city law. And this time everyone on the Council showed up and voted for the new ordinance including new City Council members Juan Villegas and Jose Solorio, as well as Mayor Miguel Pulido.
The new ordinance requires the city to implement policies that include prohibiting the use of city resources for immigration enforcement, protecting sensitive information, preventing biased-based policing and directing law enforcement officials to exercise discretion to cite and release individuals instead of detaining them at a local facility or county jail based on the nature of the alleged crime.
The ordinance also mandates that the city provide more training for affected employees and establish a task force made up of community members to advise the City Council on policies related to the ordinance.
The proposed ordinance originally stated that the restriction on use of city resources would not have applied when a subject was under investigation, had an outstanding criminal warrant, had been convicted of a felony or faced a felony charge.
However Councilman David Benavides heeded a request to remove that language from the new ordinance. The Council voted unanimously to do so.
The City Council passed this ordinance even though incoming U.S. President Donald Trump has threatened to pull all federal funding from Sanctuary Cities. Santa Ana received received $123 million in federal grants last year, of which $66.8 million is recurring.
Santa Ana City Attorney Sonia Carvalho assured the City Council that she does not see any immediate threats to the city's federal funding but that the city is also preparing in the event of any threats.
Both new Councilman Villegas and Mayor Pulido said that they would reconsider the ordinance if it threatened the city's funding.
However returning Councilman Solorio said that the new ordinance was not enough. He said that the Council needs to oppose the Trump administration on "many things."
The new ordinance states that immigrants comprise 46% of the city's population. There are two immigrants on the City Council currently – Pulido and Vince Sarmiento.
While the ordinance passed on its first reading it won't become law until it is approved at the second reading at the next City Council meeting.