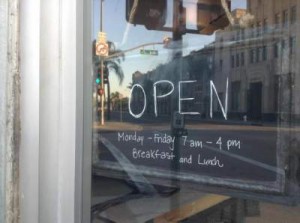 Downtown Santa Ana's newest restaurant, the Little Sparrow Cafe, is now open for business, as of this Monday, May 13, 2013, for breakfast and lunch only, Mon-Fri, from 7am – 11am for breakfast and 11 am to 4 pm for lunch.  They are offering coffee, tea, baked goods, and simple egg dishes for breakfast, and hand-crafted original sandwiches and salads for lunch, for eat in or take-out.  They are located at 300 N. Main St., in Santa Ana.  You may call them at (714) 265-7640.
Next week, on Tuesday, May 21, they will start serving dinner as well and they will be opening up their bar. Dinner hours will be Tue-Sat, from 6pm – Midnight.  Dinner fare will be "California bistro," serving refined dishes in a casual atmosphere. Reservations are suggested. Reservations Available Now.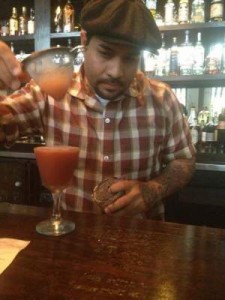 Their bar will feature a selection of original and classic craft cocktails. Wine and beer served to "the faint of heart." Enter through the restaurant.   As we reported earlier, they won't be able to keep their bar open past midnight.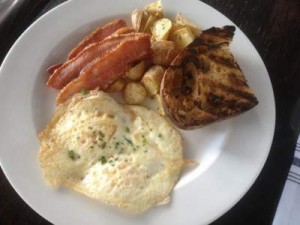 So far they have a website up, a Facebook page, an unclaimed Yelp page, a Twitter feed and a Google Plus page.  Their website does not include a menu or prices.  I am guessing they are going to be on the pricey side, which has been the trend lately in Downtown Santa Ana.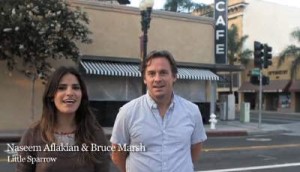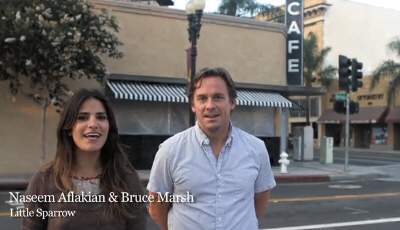 The Little Sparrow Cafe is the brainchild of Naseem Aflakian and Bruce Marsh of Santa Ana's exclusive Floral Park neighborhood.  Aflakian has a Masters in Food Studies from NYU and Marsh has apparently been involved in "several successful start-ups."