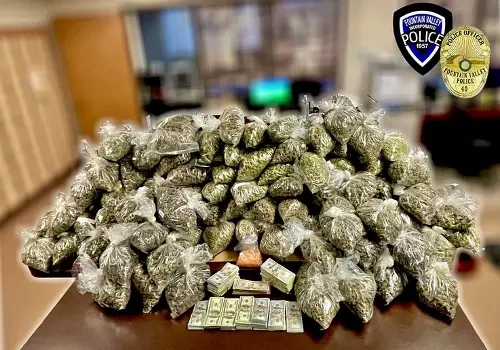 Over the span of four months, the Fountain Valley Police Department Crime Suppression Unit (CSU) have been investigating an individual who was involved in large scale marijuana distribution out of a commercial complex located in the 16000 block of Lawson River in the City of Fountain Valley.
During the course of the investigation, CSU identified other individuals who were believed to be involved in the facilitation of these transactions. CSU obtained search warrants for this individual, his residence, his vehicle, as well as the commercial complex address.
On April 20th, 2022, search warrants were executed at the above locations. Michael Ly, a 43-year-old resident of Fountain Valley, Albert Vu, a 24-year-old resident of Westminster, Linda Lisoff, a 37-year-old resident of Irvine, and Duc Nguyen, a 22-year-old resident of Garden Grove were detained at the Lawson River location.
A search of Ly and his vehicle revealed 24 pounds of marijuana and $48,761.00 in US currency. A search of Ly's residence revealed $1,300.00 in US currency. A search of the Lawson River location revealed 118 pounds of marijuana and approximately 100 suspected ecstasy pills. $3,244.00 in US currency was also located in Lisoff's possession.
Search warrants were later obtained for Vu and Nguyen's vehicles which were both parked at the Lawson River location. A search of Vu's vehicle revealed $34,600.00 in US currency. A search of Nguyen's vehicle revealed 1 pound of marijuana and a digital scale.
All four subjects were arrested for conspiring to commit possession and transportation of marijuana for the purposes of sales. They were all later booked into Orange County Jail.
The street value of 143 pounds of marijuana is estimated at approximately $72,000.00.