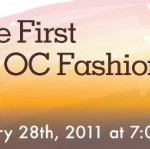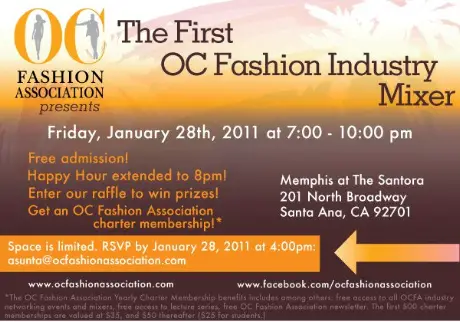 The very first Orange County Fashion Industry Mixer is coming to downtown Santa Ana!  The event is scheduled for Friday, Jan. 28, from 7 p.m. to 10 p.m., at the Memphis at the Santora, located at 201 N. Broadway.
The Orange County Fashion Association (OCFA) is a resource and platform dedicated to serve as a network for established and emerging talent, while engaging the community by providing educational and social events for individuals interested in developing a career in fashion.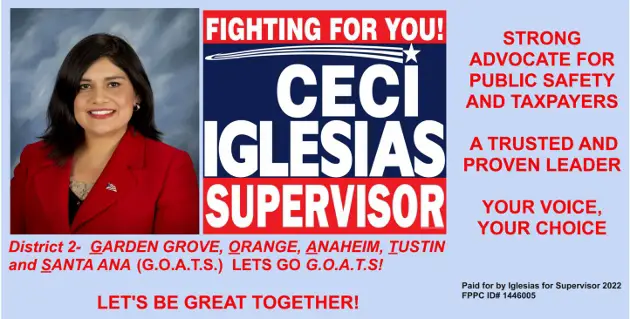 OCFA invites industry professionals and college students in fashion, art, and music for an evening of networking.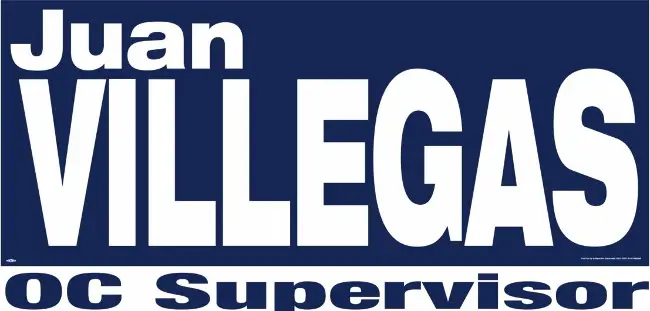 Enjoy an evening of mix and mingling with Orange County's top professionals in the fashion industry. This will be an opportunity to meet the 2011 Board of Directors and learn how to get involved with the organization.
OCFA charter memberships* will be sold at this event for only $35 p/yr or $50 for two years (special mixer prices). OCFA will raffle 3 charter memberships and other sponsored giveaways. Memphis' Happy Hour will be extended for one extra hour for OCFA guests only, until 8:00pm! The evening will toast OCFA's launch in the Orange County as a viable platform for established and emerging designers in fashion, arts and music.
*The OC Fashion Association Yearly Charter Membership benefits includes among others: free access to all OCFA industry
networking events and mixers, free access to lecture series, free OCFA newsletter. The first 500 charter memberships are valued at $35, and $50 thereafter ($25 for students).
YOU MUST RSVP BY EMAIL TO BE ON GUESTLIST.  IF YOU ARE NOT ON THE GUESTLIST YOU WILL NOT BE ADMITTED!
MUST BE 18+! FREE ADMISSION! SPACE LIMITED TO 75 PEOPLE!
To RSVP for this event, you must contact Asunta Bamini, OCFA's Director of Community Outreach by January 28, 2011 before 4pm with each attendee's Name, Email, and Phone Number to asunta@ocfashionassociation.com.
6:30: Check-In Begins
7:00: Meet & Greet
8:00: Raffle
Available parking: street meters (free after 8:00p), parking structure ($8) and parking lot behind the Santora building ($3/2h)
SOCIAL MEDIA ADDS:
**********************
Facebook: http://www.facebook.com/OCFashionAssociation
Facebook Event Link: http://www.facebook.com/event.php?eid=144561562267408
Twitter: http://twitter.com/OCFASSOC
LinkedIn: http://www.linkedin.com/groups?mostPopular&gid=3681670
Website: http://www.ocfashionassociation.com/ (temporally under construction)
Also, save the date!  OC Fashion Week is coming in April of this year, to the Santa Ana Artists Village.  Here is the event flyer: