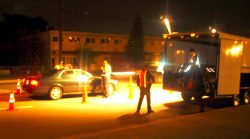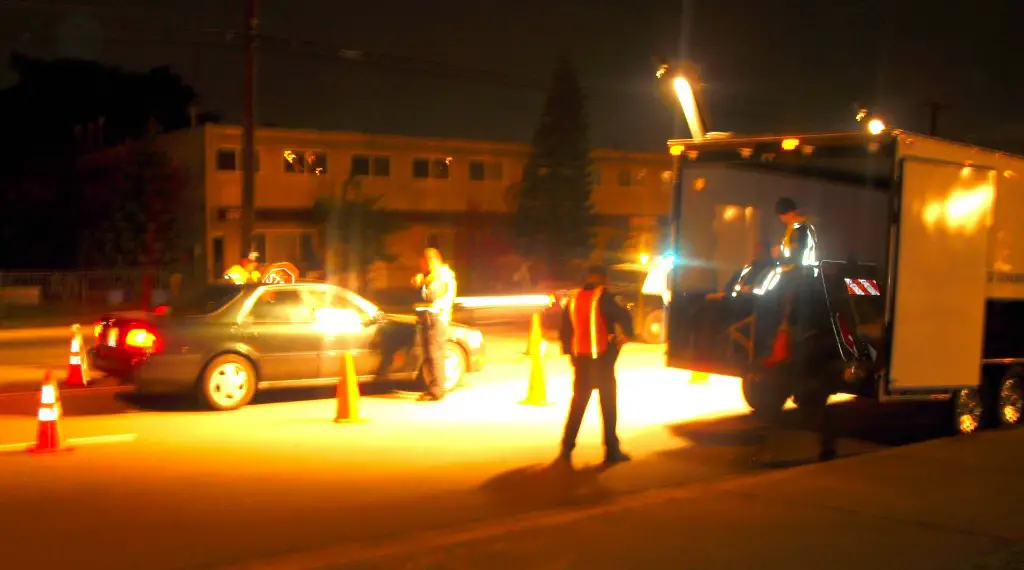 Oakland is now abstaining from impounding unlicensed drivers' cars – and from the hundreds of thousands of dollars the controversial seizures generate a year, according to California Watch.
An investigation by California Watch and the Investigative Reporting Program at UC Berkeley's Graduate School of Journalism last year found that sobriety checkpoints across the state were increasingly turning into profitable operations for local police and tow companies because of these vehicle impounds. In 2009, vehicle seizures generated an estimated $40 million in towing fees and police fines from checkpoint seizures.
Changes instituted by Oakland's new policy include:
Motorists caught driving without a license won't automatically lose their vehicles for 30 days.
Officers going forward will allow such drivers, an overwhelming majority of them illegal immigrants, to park their cars in a legal spot or have a licensed driver remove the vehicle.
Other cities with policies similar to Oakland's include San Francisco, San Jose, Baldwin Park, Coachella, Cathedral City and Berkeley.
What about Santa Ana?
I investigated this very issue in March of last year.  I met with Paul Walters, the Chief of the Santa Ana Police Department, and I visited a DUI checkpoint in Santa Ana, at Rosita Park.
For exactly one week after I published my investigation, an SAPD squad car sat on the north end of my street, every day, and presumably waited for me to come home from work – most likely looking for me to do a "California stop."  But I always come home from the south end of my street.
Why would the police be upset about my investigation?  Well, police officers make a ton of money on overtime by manning the DUI checkpoints.  And it is all overtime.  My investigation was going to cost them a mint, and they were not going to take that lying down.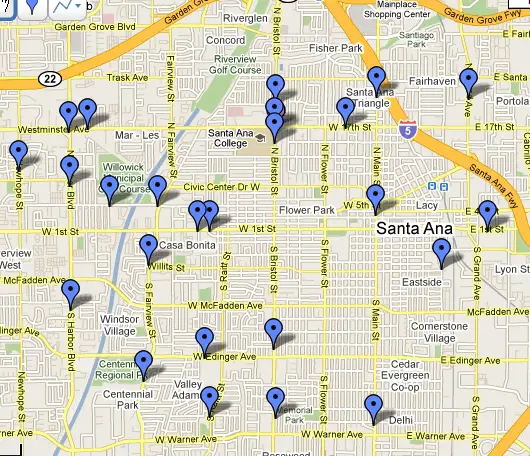 What I discovered in my investigation was that north and south Santa Ana have been spared from DUI checkpoints, which appear to be set up quite often in neighborhoods with a lot of immigrants.  You can see all of the checkpoints in the map above, which I painstakingly plotted on Google Maps.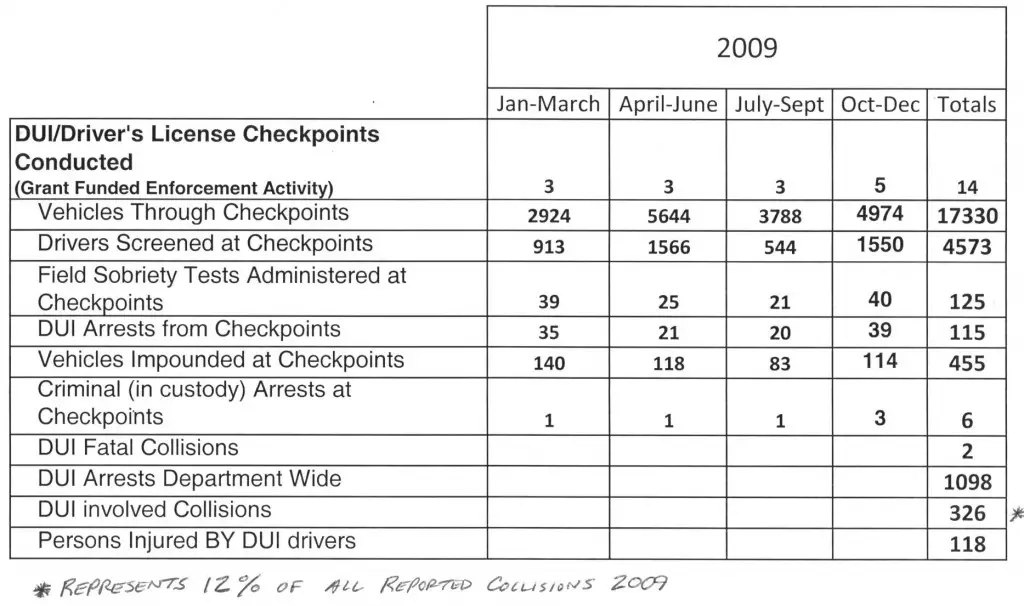 You can see the results of the 2009 SAPD DUI checkpoints in the graphic above. If I read it correctly, there have been 115 DUI arrests, out of over 17,000 vehicles that have passed through the checkpoints. Of those vehicles, 4,573 were actually screened, on a random basis. Only 125 field sobriety tests have been conducted.
In that same time period, 455 vehicles were impounded. Now you figure that a third of those were the DUI arrests, although in some cases the drivers were allowed to leave their cars at the checkpoint for their family to pick up.  But that still left about 300 folks without their cars.  They had to pay the City a lot of money to get their cars back!
Oakland police have been towing unlicensed drivers' cars for at least 20 years, according to the department. Under the old policy, many cars were put on 30-day holds, leaving owners with a $1,970 bill that was often more than the value of the car, according to the San Francisco Chronicle.
"There were rich people getting richer off of the back of poor people," said Emma Paulino, an organizer with Oakland Community Organizations, a coalition of faith groups, schools and community groups.
I spoke to State Senator Lou Correa and Assemblyman Jose Solorio about this last year, during the course of my investigation.  Both said that the DUI checkpoints are funded by state grants.  Correa said he is working to take away that funding.
None of us want drunk drivers on the road, but the reality is that these checkpoints do little to stop drunk drivers.  Just look at the results.  They speak for themselves.
I urge our City Council to act on this as quickly as possible.  Taking cars away from the poorest residents in our city is an injustice that must be stopped.  There is plenty of precedent for this already.  The decent thing to do would be to adopt Oakland's policy as our own.
The fact is, undocumented immigrants are not allowed to apply for driver's licenses here in California, but sometimes they have no choice but to get behind the wheel.  Our state policy is asinine.  It creates hit and run accidents and reduces safety on our roads.  But we cannot do anything about that.  However, we can act, and should act, to stop impounding vehicles driven by desperate immigrants who are just trying to feed their children – and many of those kids are Americans, born and raised here.
If you would like to communicate your feelings about this to the SAPD, click here.  Click here to contact our Santa Ana City Council.  You can contact City Manager Dave Ream's assistant, Mark Lawrence, at MLawrence@santa-ana.org.