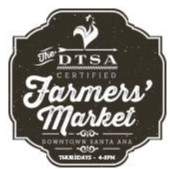 City of Santa Ana, Downtown Orange County
Community: The DTSA Farmers' Market Turns One
The DTSA Farmers' Market is celebrating its one year anniversary!
A community-oriented, chef-driven certified farmers' market – here's a recap of what year one looked like:
• The DTSA Farmers' Market launched on March 27, 2014, providing the community with a weekly event with organic produce, artisan foods, live local music, and a free kids' craft table.
• In May they began to offer a "Friends of the Market Program" to residents and shoppers. With a DTSA Farmers' Market tote bag, you can get discounts all over town, every Thursday. This has helped to create a destination feeling for the downtown area, with the market being one of a number of stops for shoppers.
• The market welcomed a local WIC issuing agency from July-September, to disburse seasonal Fruit & Vegetable Dollars. Over 1,766 community members were provided with these checks to purchase produces from family farms! In November the market began to accept EBT market-wide.
• In December they partnered with The Frida Cinema to offer free outdoor holiday movies during the market.
• Recently, the DTSA Farmers' Market was awarded a Market Match grant from the USDA to DOUBLE EBT dollars, up to $10 per day! That means $10 is worth $20! The Market Match program will be up and running soon.
The DSTA Farmers' Market takes place on the Spurgeon Promenade – located between 3rd and 4th Street (directly in front of the Yost Theater) every Thursday from 4 p.m. – 8 p.m. Learn more at www.dtsamarket.com.
###