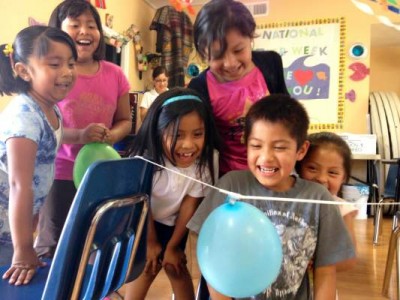 For Immediate Release
Saturday April 11th Is A Day For The Children
Free Food and Resources at el "Día del Niño" Celebration in Santa Ana
Orange County, CA (April, 2015) – Healthy kids make for a healthy community. For the past 20 years KidWorks Santa Ana has known this axiom to be true. Day in, day out, it is the mission of KidWorks to provide all of the tools necessary for at-risk children to grow up and prosper and find their own unique identity.
On Saturday April 11th, from 10 am until 1 pm, between the 1900 and 2200 blocks of Myrtle Street, KidWorks will host a Día del Niño celebration, in partnership with other local non-profits, community leaders and educators. Saturday marks the culmination of the Week of the Young Child, which has been celebrated across the nation for over 4 decades.
Some of KidWorks' partners, which will be front and center as resource providers for both kids and their parents, include: Immaculate Heart of Mary Church, Latino Health Access, Hispanic 100, America on Track, representatives from the office of Orange County Supervisor Andrew Do, and representatives from State senator Janet Nguyen sponsoring "Informed Families—Secure Community."
This 4th Annual Día del Niño expects to attract more than 1,000 neighbors for an afternoon of carnival atmosphere featuring food, games, and special activities centered on art, music and dance. All children attending will be entered into a raffle to win one of 8 bicycles, gift cards and other prizes aimed at promoting health and physical fitness.
A variety of culturally based entertainment exhibits will be featured on a "show-mobile trailer." Some of the organizations in charge of the entertainment, including music and dancing, are: Santa Ana Bomba, Djembe Fusion, Love in Music, Zumba by Clara and Santa Ana High School- Drum Line.
KidWorks, in partnership with Immaculate Heart of Mary Church, will prepare and serve chicken tacos, fresh fruit, and bottled water at no charge to participants. Admission is free. No reservation is needed.
The Goal of The Event
Día del Niño is an opportunity to engage residents and their children, living in low-income neighborhoods in central Santa Ana, with information on community resources available to children and their families. This is an event about enhancing the quality of life through interaction with organizations dedicated to education, culture, health, and general improvement of life.
About KidWorks
Founded in 1993, KidWorks helps at-risk kids, families and communities in Santa Ana, California. KidWorks offers educational support, leadership-building programs, and faith-based and community empowerment activities that begin with preschoolers and follow youth into their college years. 100% of KidWorks high school graduates are college bound. To learn more about KidWorks please visit their website at www.kidworksonline.org.
To Learn More
Contact Claudia Soto-Neira, Director of Marketing and Development for KidWorks, 714.834,9400 x 140, www.kidworksonline.org, or claudia.soto-neira@kidworksonline.org.
***