Starting in February 2016, a group of UCI Med Students started operating a Needle Exchange in the Santa Ana Civic Center. Over the past few months, there have been numerous used needles found inside the Santa Ana Main Library, and a few needle-stick injuries in the Civic Center.
Those needle-stick injuries are not pleasant. The victims have to undergo blood-testing and they have to use condoms with their sexual partners. The victims could be exposed to HIV and Hepatitis.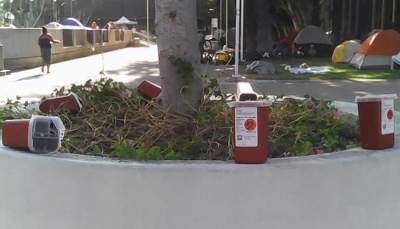 The Washington Square neighborhood is next to the Civic Center. We wonder if they were notified of the Needle Exchange Program and did they approve it to operate in the Civic Center?
Community activist Igmar Rodas recently found a few needle containers used to dispose of hazardous needles on a planter and thrown on the floor. Per OSHA regulations this is not the proper way to secure a biohazard waste station. These carelessly placed containers are putting the homeless, employees, and school children at risk of puncturing themselves with used syringes.