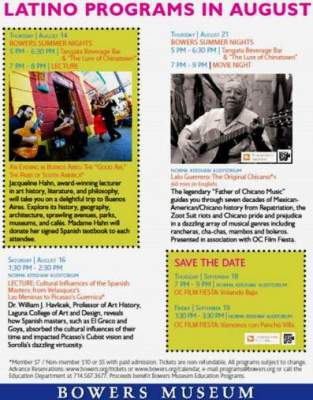 FOR IMMEDIATE RELEASE: August 12, 2014
CONTACT
Victor Payan
Latino Audience Engagement Specialist
714-567-3645
vpayan@bowers.org

BOWERS MUSEUM FEATURES GREAT LATINO PROGRAMS IN AUGUST
Lineup includes Lecture about Buenos Aires, Spanish Masters Presentation and Lalo Guerrero Doc
The Bowers Museum is proud to present a number of wonderful Latino programs in August, which showcase the diversity of the Latino community. The Bowers Museum is located at 2002 N. Main St. in the heart of Santa Ana. All events take place in the Norma Kershaw Auditorium. Student tickets are only $5.
On Thursday, August 14, join award-winning lecturer Jacqueline Hahn for An Evening in Buenos Aires: The "Good Air," the Paris of South America. Madame Hahn will take you on a delightful trip to Buenos Aires. Explore the rich history, geography, architecture, sprawling avenues, parks, museums, and cafés of this enchanting city. Attendees will receive a free, autographed textbook from Ms. Hahn. The presentation begins at 7pm.
On Saturday, August 16, Laguna College of Art and Design Professor Dr. William J. Havlicek will deliver a visually-stunning lecture on the Cultural Influences of the Spanish Masters: from Velasquez's Las Meninas to Picasso's Guernica. Learn how Spanish masters, such as El Greco and Goya, absorbed the cultural influences of their time and impacted Picasso's Cubist vision and Sorolla's dazzling virtuosity. Dr. Havlicek's lecture takes place at 1:30pm.
Music fans of all genres will not want to miss the special August 21 screening and discussion of the award-winning documentary Lalo Guerrero: The Original Chicano, about National Medal of Arts recipient and Smithsonian National Folk Treasure Lalo Guerrero. Born in Tucson in 1916, Guerrero was a master of multiple musical genres including bolero, boogie woogie, mambo, musical parody and even children's music. His singing squirrel records, Las Ardillitas de Lalo Guerrero, are beloved by generations of children throughout Mexico and the US. Additionally, Lalo Guerrero's songs were included in Luis Valdez's hit Broadway musical and film Zoot Suit.
Interviews with Linda Ronstadt, Ry Cooder, Dolores Huerta, Edward James Olmos and Los Lobos' Louie Perez and Dave Hidalgo help bring Lalo Guerrero's eclectic cultural tapestry to life! This screening is presented in association with the OC Film Fiesta and sponsored by the James Irvine Foundation. The screening and discussion takes place at 7pm.
Tickets for each event are: Students $5, Members $7 and Non-members $10. All programs subject to change. Advance Reservations: www.bowers.org/tickets or www.bowers.org/calendar, e-mail programs@bowers.org or call the Education Department at 714.567.3677. Proceeds benefit Bowers Museum Education Programs.
Founded in 1936, the Bowers Museum is one of California's finest and Orange County's largest museums. Located in the heart of Orange County, the Bowers offers exhibitions, lectures, art classes, travel programs, children's art education programs, and other special community programs.
BOWERS MUSEUM is located in the heart of Orange County at 2002 North Main Street in Santa Ana, just one minute from the 5 freeway at the Main St. South exit, and just a few minutes from the 22, 55 and 57 freeways. The Bowers is accessible via the OCTA number 53 bus. Regular operating hours: Tuesday through Sunday, 10 AM to 4 PM. For more information, please visit www.bowers.org.
Address: 2002 North Main Street, Santa Ana, CA 92706
Tickets and Information | 714.567.3600
Group Tours: grouptours@bowers.org | 714.567.3680
Membership: membership@bowers.org | 714.567.3639
For more information, visit our website at www.bowers.org
###