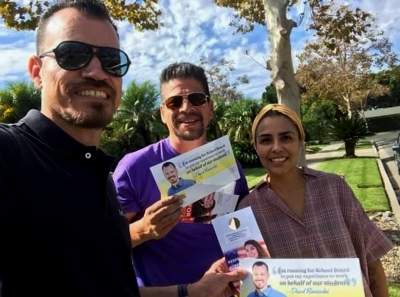 It appears that Phil Bacerra has won this week's Santa Ana Special City Council Election and he will take over Ward 4, which was vacated a few months ago by Roman Reyna.
Carolyn Torres easily won the SAUSD School Board Special Election, ending the political career of longtime City Council Member David Benavides.
It is time now to have a look at this election's biggest losers:
The Santa Ana Police Officers Association – they supported Bacerra last year and then inexplicably jumped off his bandwagon and spent money on Jennifer Oliva instead. She came in second to last place. Oops! To make matters worse they spent perhaps $60K on SAUSD School Board candidate Cecilia Aguinaga and she came in last place. The SAPOA now has zero pull on Bacerra – and they have already antagonized City Council Members Juan Villegas and Ceci Iglesias, who they are trying to recall. What the heck is the SAPOA trying to accomplish? Their political strategy is a train wreck!
Former City Council Members David Benavides, Sal Tinajero and Roman Reyna. As noted above, Benavides' political career is now in tatters after he was whipped by Torres in the SAUSD Special Election. But Benavides also joined his former City Council colleagues Tinajero and Reyna in supporting Beatriz Mendoza for Ward 4, and she lost to Bacerra. All three of them are now on the outside looking in. Tinajero and SAUSD Trustee John Palacio were likely at the helm of the Mendoza campaign. This is a huge loss for them! They tried last year to destroy Bacerra and now he has the upper hand.
City Councilman Jose Solorio – he has been trying for years to become the new Mayor Miguel Pulido. But Bacerra now figures to inherit Pulido's backers, not Solorio. And despite the SAPOA's ridiculous attempt to recall Iglesias she is now a candidate for Mayor and will likely win as there figure to be a half dozen liberals who will split the left-wing vote.
Santa Ana's "Berniecrats" – They won in the SAUSD race, with Torres, but lost Ward 4 despite a solid effort by political newcomer Manny Escamilla. Unfortunately for them there were just too many liberal Democrats on the ballot, which allowed the moderate, Bacerra, to prevail.
Torres' victory by the way is bad news for Santa Ana families as she will inevitably oppose school choice and attack our charter schools. We need more school choice in Santa Ana, not less! No doubt more families will now put their kids in Tustin and Irvine schools as they escape from the SAUSD and our awful School Board.
There is a chance, although slim, that Escamilla will pull ahead of Bacerra. However in our experience the candidate that is leading when the early results come in usually prevails. We expect Bacerra to pull this one out.
The overall winner of this election is Mayor Pulido. Now he has a firm City Council majority to work with as he nears the end of his term. While he will wrap up his work on the City Council he is planning to run next year for the First District of the O.C. Board of Supervisors.