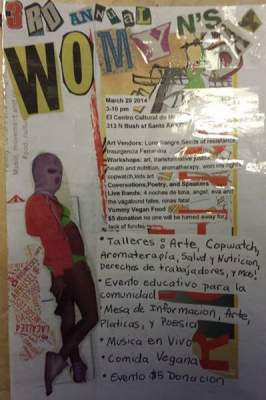 The 3rd Annual International Woman's Day in Santa Ana is set for today, Saturday, 3/29, from 4:00 pm to 11:00 pm at El Centro Cultural de Mexico, located at 313 N. Birch Street, Suite C, in Santa Ana.
Santa Ana brings you an educational, social, community event, to recognize woman's struggles and victories, by sharing information, skills, knowledge, love, music and more. Workshops,conversations, poetry and speakers.
Insurgencia Femenina- 90.7fm, Copwatch Santa Ana , Slam School for Girls- Poets.and more! Clothes exchange/ donation,bring three or more items of clothes, shoes, or accessories to donate to womans shelter. We will be accepting clothes from 4:00-7:00pm. Bring your 3 items for donation recieve a ticket, then from 7:30-10:00pm bring ticket back to exchange for 2 items. We will donate all items to a local woman's shelter.
Workshops:
Art with Adriana, Michi & Chilo 4:15-5:30pm
Womb Care by Cristina Flores 4:30pm
Transformative Justice by Zuleica Zepeda and Iuri M Lara 5:00pm
Poetry/ Food break 5:30pm
Herstory on International Womyns Day 6:00pm
Insurgencia Femenina by Elizabeth 6:10pm
Domestic Workers by Gema Suarez 6:20pm
CopWatch SantaAna w America 6:45pm
Poetry 7:15pm
Health and Nutrition for the Female Body by Claudia Aguilar 7:30pm
Aromatherapy by Maria Zacarias 8:00pm
Poetry 8:30pm
Music 9:00-11pm
Art vendors:
Luna Sangre
Seeds Of Resistance
Insurgencia Femenina/ Comite Prodemocracia En Mexico
Zuleica Zepeda
Priscila Hernandez
JoAnna Vega- Closet Exchange.
Yummy vegan food
Massage by Claudia Aguilar from 4:00-6:00pm
Featuring Bands:
4 Noches de Luna 9:00pm
Eva and the Vagabond Tales 9:30pm
Angst 10:00pm
Niñas Fatal 10:30pm