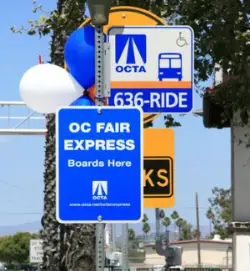 FOR IMMEDIATE RELEASE: July 11, 2013
FOR MORE INFORMATION: Joel Zlotnik (714) 560-5713, Laura Scheper (714) 560-5697
OC Fair Express Kicks Off Tomorrow From Nine Locations
Riders of the bus service will receive a coupon for $3 admission to the fair
ORANGE – The Orange County Transportation Authority is bringing back the OC Fair Express bus service with locations across the county for just $2 each way, allowing riders to save time and money.
The OC Fair Express will provide non-stop weekend bus service from nine locations to the OC Fair from July 12 to Aug. 11. Buses will run hourly between approximately 2:30 p.m. and midnight on Fridays and 9:30 a.m. and midnight on Saturdays and Sundays. Half hour service will be provided at the Fullerton Park and Ride, Santa Ana Depot and Goldenwest Transportation Center.
Riders will also receive a coupon valid for $3 admission to the fair –a savings of $8 off the regular ticket price.
"The OC Fair Express offers riders a convenient and inexpensive way to get to and from the fair," said OCTA Chairman Greg Winterbottom. "OCTA is pleased to partner with the fair and provide this service for another year."
In 2012, more than 46,000 fairgoers rode the Fair Express.
Riders can board for a one-way fare of $2 and catch the service from nine locations:
· Fullerton Park and Ride, 3000 W. Orangethorpe Ave. in Fullerton
· The Depot at Santa Ana, 1000 E. Santa Ana Blvd. in Santa Ana
· Goldenwest Transportation Center, 7301 Center Ave. in Huntington Beach
· Anaheim Canyon Metrolink Station, 1039 N. Pacificenter Drive in Anaheim
· The Village at Orange, 1500 E. Village Way in Orange
· Newport Transportation Center, 1550 Avocado Ave. in Newport Beach
· Laguna Hills Transportation Center, 24282 Calle de los Caballeros in Laguna Hills
· Irvine Metrolink Station, 15215 Barranca Parkway in Irvine
· Junipero Serra Park and Ride, Corner of 1-5 Freeway and Junipero Serra Road in San Juan Capistrano
The OC Fair Express is made possible in part by a $342,000 grant provided by the Mobile Source Air Pollution Reduction Review Committee (MSRC). MSRC provides subsidies for cleaner transportation alternatives.
For more information about the OC Fair Express, visit www.octa.net/ocfairexpress.
# # #