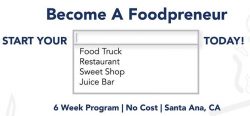 City of Santa Ana
Community: The Whole Kitchen Sink: A 6-Week Crash Course on Starting a Food Business & Becoming a Food Entrepreneur
The City of Santa Ana in partnership with the 4th Street Market, and the Orange County/Inland Empire Small Business Development Center (SBDC) Network invite food entrepreneurs to participate in "The Whole Kitchen Sink", a 6-week crash course on starting a food business.
The program in intended for individuals looking to start a food truck, sell homemade food products, or open a brick and mortar restaurant. In this hands-on program, participants will learn to start their business and use a commercial kitchen space.
This no cost series will be held on Wednesdays from 6 p.m. to 8 p.m. at the East End Kitchens at 4th Street Market in Santa Ana starting on August 1, 2018.
Curriculum:
-Cottage Food, Commercial Kitchen, Food Truck, Brick and Mortar, what is the right choice for me
-Building and planning for your Business
-Creating, Costing and Pricing your Products
-Sourcing and Selling your products
-Branding, Packaging and Labeling your business
-Licenses, Permits, Safety and Sanitation
The SBDC will select 25 individuals to participate based on an interview process.
For more information and to register for this opportunity visit: http://bit.ly/TheWholeKitchenSink