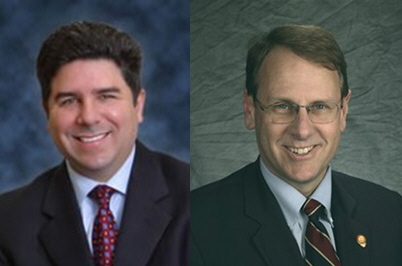 Orange County Performance Auditor Steve Danley has made headlines by exposing the corruption at the County of Orange – where pay raises are handed out like treats, many times without justification.  That this is happening while workings are being laid off and families are losing their homes makes this graft even more disgusting.
And perhaps the worst detail of Danley's recent report is that Santa Ana Councilman Carlos Bustamante and SAUSD Trustee Rob Richardson are amongst the overpaid County employees who have received raise after raise without justification.  Santa Ana is home to the most foreclosures in Orange County.  These two greedy public servants aren't serving the working families of Santa Ana – instead they are grabbing as much taxpayer money as they can.
The O.C. Register reported that "Auditors disagree that the rules were followed. Mismanagement by the county's Human Resources has made the county more expensive to run and less productive, according to the report. Auditors said $149.3 million can be saved by changing the way Human Resources does business. Correcting those problems could be the answer to solving many, if not all, of the county's financial woes."
"Assistant CEO Rob Richardson was promoted from assistant to the CEO in January 2006 and given a 27.4 percent raise. That same day, he got a 2 percent countywide merit increase. Six months later, auditors noted he got a 4.5 percent salary hike "with no justification provided." Then in April 2008, Richardson got another 8.3 percent salary adjustment," according to the Voice of OC blog.
"Carlos Bustamante was the OC Public Works administrative director when he was promoted to executive manager to also oversee OC Facilities. OC Public Works Director Jess Carbajal told auditors in December that Bustamante could not do the entire job because of potential conflicts with his City Council position. Santa Ana pays for half of the Civic Center maintenance costs; the county the other half. Carbajal said the assignment was temporary; the CEO said it was permanent. Bustamante was the Republican establishment's preferred candidate for an open seat on the Orange County Board of Supervisors in 2007. He finished fourth in the contest. The county paid him $156,178 last year," according to the O.C. Register.
The annual median household income in Santa Ana is $43, 412, according to the City of Santa Ana.  Bustamante pulls down almost four times that income, and Richardson earned $194,489.60 last year – almost five times the household median income in Santa Ana.
Bustamante and Richardson are Republicans, in a town that is overwhelmingly Democratic.  They don't appear to be tea party Republicans!
Assemblyman Jose Solorio supported both of them in their last elections – as did Supervisor Janet Nguyen.
Both Bustamante and Richardson face reelection in 2012.  I hope the voters and our politicians remember how these two ripped off Orange County's taxpayers!