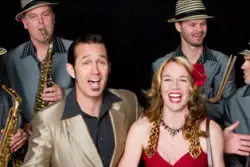 FOR IMMEDIATE RELEASE: AUGUST 31, 2010
CONTACT: JENN STARNES, 949-724-6574
Scrap Meets Swing at the Great Park
Flights and Sounds of Summer to Feature Steve Lucky and the Rhumba Bums; ScrapArtsMusic
IRVINE – It's a high energy, jumping, jiving and sonically riveting lineup this weekend when the Flights and Sounds of Summer dance and concert series features Steve Lucky and the Rhumba Bums with Miss Carmen Getit and ScrapArtsMusic. Lucky for Orange County that Steve Lucky and the Rhumba Bums with Miss Carmen Getit is returning for a second Great Park dance party this season on Friday, September 3rd at the Orange County Great Park. Last year, they definitely helped dancers wear out their soles with a hot mix of swing, West Coast jump blues and R&B. Great Park dance instructors will get you ready to bop with the Rhumba Bums at 7:30 p.m.
Recycling can be fun, creative and … musical? ScrapArtsMusic will prove it on Saturday, September 4th. ScrapArtsMusic delivers intricate rhythms, athletic choreography and the greenest and most inventive reuse of materials on stage today. ScrapArtsMusic's closing ceremonies performance was broadcast to a global television audience at the grand finale of the Vancouver 2010 Winter Olympics.
"We invite everyone to come enjoy these lively performances," said Larry Agran, Chair, Orange County Great Park Corporation. "The Great Park Flights and Sounds of Summer Festival brings people together through unique music, dance and performance art venues."
Saturday night concerts begin at 8:00 p.m. Before the Saturday shows, come to the Great Park Comedy Corner at 7:00 p.m. and enjoy local comedians Matt Claybrooks with special guests Jackie Fabulous and Chris Adams. Admission to Flights & Sounds Summer Festival dance and concert series is free, and parking is just $10.
Upcoming 2010 summer performers include a wide variety of first-rate artists, featuring five-time Grammy Award-winning Blind Boys of Alabama, local surfing champion and artist Donavon Frankenreiter, Big Sandy and His Fly-Rite Boys and Jerry Mandel Swinging the Standards Jazz Band.
"Flights & Sounds Summer "Festival" is presented by the Orange County Great Park Corporation in partnership with the Irvine Barclay Theatre. Concertgoers can watch the show from chairs provided in a temporary concert pavilion or bring their own chairs to listen to the music from the Great Park Lawn.
Before each performance, Hangar 244 is transformed into the Hangar Café, a lounge-like dining area serving up everything from snacks to full dinners, along with refreshments. The Orange County Great Park is located off the 405 or 5 Freeways at Sand Canyon and Marine Way in Irvine.
The Orange County Great Park with its 1,347-acre master plan is the focal point of the redevelopment of the 4,700-acre former Marine Corps Air Station, El Toro. The Great Park is currently built out to 27.5 acres and includes an iconic tethered helium balloon that rises 400 feet in the air, providing an aerial view of Park development. A $65.5 million development plan to expand the Park to 200 acres is currently underway. The plan will build out a core section of the Park for the most immediate and wide-ranging public benefit, including a sports park, agricultural area and an art and culture exhibition space.
For the entire festival line-up and more information, go to www.ocgp.org
####