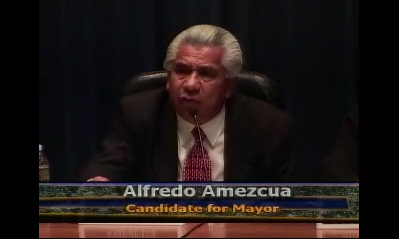 On Saturday afternoon I received an email from a group calling itself "Santa Ana Coalition for Better Government" and they were announcing their plans for a protest at City Hall Tuesday.  As Art Pedroza wrote on Saturday this group is just a front operation for failed Mayoral candidate Alfredo Amezcua.  It is evident that Amezcua and his supporters have no plans on be gracious in defeat.
The protest, which they have labeled a "Vigil of Discontent", is scheduled to take place prior to the inaugaration of three of our finest city leaders, Mayor Miguel Pulido, Councilmember Sal Tinajero and Councilmember Michele Martinez along with Councilmember David Benavides.  Amezcua and his supporters want you to join the "community" in protest, doesn't he realize that it was the community that overwhelmingly defeated him in November.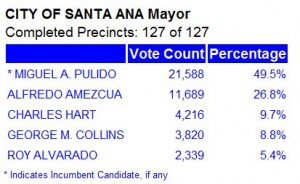 This event is nothing more than a side show created to make people think that the residents of Santa Ana are opposed to the great council majority that will lead our city for years to come.  As we all saw from the election results the residents support our Mayor and council majority.  This is sour grapes from the Amezcua camp and a demonstration that they lack any class whatsoever.
I find it laughable that Amezcua is now "discontented" with Mayor Pulido and company.  It appears that Amezcua, a long time ally of Pulido and the "white" power structure here in Santa Ana, only started to express his discontent once Pulido refused to invest in Amezcua's failed Santa Ana Business Bank and once Pulido turned his back on his old "angry white" voter base and began to allign himself with the more progressive Latino's on the council.
The time for politics and campaign rally's is over Al.  It is time to help our elected officials and other city leaders move Santa Ana forward.  Cheap publicity stunts like the one you have organized for Tuesday does nothing to bring the community together or help make Santa Ana a better place.  You lost, move on.  Stop with these silly vigil's of malcontents.