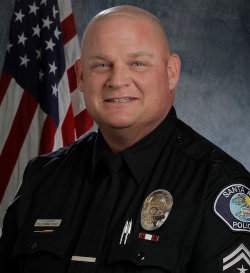 Donate Life California, which encourages people to register as organ donors, and the California Peace Officers' Memorial Foundation will hold a special Donate Life Rose Dedication Ceremony on Tuesday, October 28 at 10 a.m. honoring fallen law enforcement officers and their families. A beautiful rose in honor of the officers will be included in the Dedication Garden on the Donate Life Float in the 2015 Rose Parade, held in Pasadena on New Year's Day. The officers' families are invited to personalize the tribute.
Tuesday's ceremony will be held at the Orange County Sheriff's Training Academy, located at 15991 Armstrong Avenue, in Tustin, from 10 to 11 am.
The speakers at this event will include Santa Ana Police Cpl. Steve Ahearn (pictured above), who is in dire need of a new kidney.  Click here to read more about Ahearn's condition and his service to our community.
Other speakers at the event will include: Continue reading→