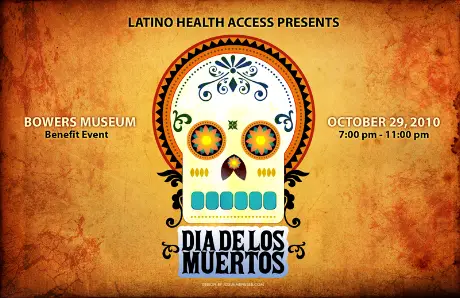 You and your guest are invited to an evening of art, music and dance as we celebrate " Di a de los Muertos" at the Bowers Museum .
Friday, October 29, 2010.  7:00pm reception | 8:00pm program.  Cocktail Attire.
Special Guest: Gregorio Luke
Gregorio is the former Director of the Museum of Latin American Art in Long Beach, former Consul of Cultural Affairs of Mexico in Los Angeles and the First Secretary of the Embassy of Mexico in Washington D.C.
Tickets are now available: $100 per person / $1,000 table of (10).
* Additional donations are also offered and help to support our work. We are proud to be serving our community since 1993 and could not continue to do so without your generous contributions. *
"Together we can build a healthier community."
Information & Sponsorship Inquires:
Gabriela Gonzalez | Communications & Development
ggonzalez@latinohealthaccess.org | 714.542.7792 ext. 3164
Click here to see the event flyer.  Click here to register online.
Latino Health Access (LHA) is an award winning, non-profit, 501c3 organization that was established in 1993. The center was created to assist with the multiple health needs of Latinos in Orange County.
LHA assists in improving the quality of life and health of uninsured, under-served people through quality preventive services and educational programs, emphasizing full participation in decisions affecting health.
www.latinohealthaccess.org