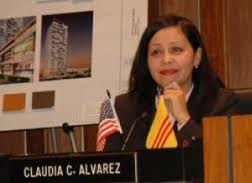 The Santa Ana City Council majority has about had it with City Manager Dave Ream and his staff.  One Council Member I spoke to this week said that it was time for Ream to move on.
What set this off?
Santa Ana Mayor Pro Tem Claudia Alvarez complained at a recent Santa Ana City Council meeting that city staff was hiding information from the City Council regarding spending.
Alvarez requested memos, which lay out contracts and loan programs worth more than the city's $25,000 limit. She declined to comment further; other council members either did not return phone calls or said they were still reviewing the memos and could not comment, according to the O.C. Register.
It is highly ironic that failed Santa Ana Mayoral candidate Alfredo Amezcua and his Anaheim Amigos held a press conference this month demanding transparency when that is exactly what Alvarez and her Council majority are about to deliver.  They surely won't get any credit from Amezcua and his band of malcontents.
This could all be bad news for Santa Ana City Manager Dave Ream, whose staff has been involved in under-informing the City Council about spending.
Community Redevelopment Director Cynthia Nelson in particular has come under fire for spending hundreds of thousands of city dollars without letting the City Council know who was getting the money.
Alvarez said millions may have been spent by Nelson – much of it for facade improvement in the City's downtown, according to the Voice of OC.
One of Ream's assistants told me this week that there were no problems with city spending – and she was not too happy with Alvarez's questions.  But other Council Members have about had it and I think they mean it.  If I were a betting man I would wager that heads may be rolling soon…