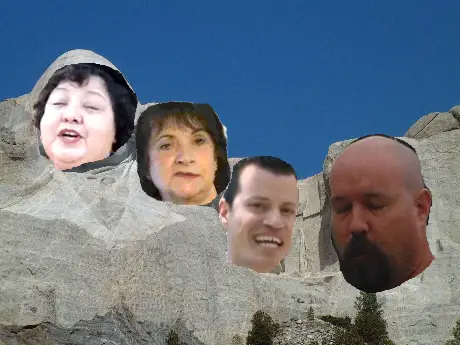 It has become the scandal that won't go away.  This time the Orange County Register piled on the David Benavides Hatergate scandal with a new article that is very illuminating.  Here are a few choice excerpts from the article:
The incident has created fireworks in Santa Ana politics, prompting members of the City Council to walk out of a meeting this week in protest. It has also generated a new push for the city to take more control of Independence Day festivities – and to sponsor its own show of fireworks.
At the center of the debate is a short video that has now been viewed thousands of times on the Internet. In it, Yorba Linda resident Gary Hynds uses the word "wetback" in a testy exchange with a migrant-rights activist.
Hynds acknowledged in a brief phone interview this week that he had used the word and said: "That's my opinion." He then handed the phone to his wife, Anita, who said the activist had goaded him into saying it.
Her presence at the festival drew activist Naui Huitzilopochtli, who films anti-illegal-immigration rallies. He stopped at a table where Hynds and his wife were selling soft drinks.
His video doesn't show how the exchange of words began; both he and Hynds say the other shouted first. The video clip begins with Huitzilopochtli asking: "How do I look like?" Hynds looks up from a book he is reading and says, "A wetback."
As the debate heats up, Huitzilopochtli calls Hynds "the true wetback"; a friend with Huitzilopochtli calls Hynds an "(expletive) white guy." Then they ask Hynds: "You think all these people are 'wetbacks' too?" Hynds looks at the camera and says, "Yeah."
At one of its meetings earlier this month, the City Council set aside time to thank the organizers of the event with certificates of recognition but hurriedly scrapped those plans.
The councilman who had proposed that honor, David Benavides, brought it back up this week. This time, Mayor Miguel Pulido and Councilwoman Claudia Alvarez left the meeting. The only other council members who were there – Sal Tinajero and Vincent Sarmiento – distanced themselves from the recognition because of Moreno's involvement and the video of Hynds.
"What we do here is a reflection on the entire council," Sarmiento said. "Sometimes (people) are not deserving of recognition because they are hate-filled, they are intolerant, they are hostile."
Benavides went ahead with the recognition.