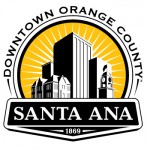 City of Santa Ana
Community  Alert: The Mayor & City Council will honor exemplary citizens Susan Andersen & Michael Ray at Tuesday's City Council meeting
SANTA ANA, CA (June 30, 2014) – The Santa Ana Mayor and City Council will recognize Susan Andersen & Michael Ray for their exemplary service to the Santa Ana community.
Susan Andersen has been touching the lives of Santa Ana's residents for over fifty years. She moved to Santa Ana and opened Andersen Dental Lab on Main Street with her husband in 1946. Yesterday, Susan celebrated her 100th birthday. She is the last remaining of her siblings.
Michael D. Ray is the former Chief Financial Officer for Discover Science Center in Santa Ana, a hands-on science museum for kids of all ages. Michael instrumental in bringing the Orange County High School of the Arts new facility to Santa Ana.
For more details regarding the notable accomplishments of both individuals, please come to Tuesday's city council meeting or visit, http://www.santa-ana.org/coc/granicus.asp, to see it streamed live on the web.
###