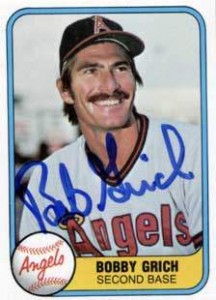 Free Youth Baseball Clinic Costa Mesa July 12 with Ex-Big Leaguers Grich, Bailey, Rettenmund
COSTA MESA – The Hanover Insurance Group Inc. is partnering with Wood Gutmann & Bogart Insurance Brokers and The Major League Baseball Players Alumni Association (MLBPAA) to host a free "Legends for Youth" baseball clinic on Saturday, July 12, 2014, from 9 a.m. to noon at Vanguard University Baseball Field in Costa Mesa.
Former All-Stars, including Bobby Grich, Jerry Spradlin, Bob Bailey, Merv Rettenmund and Mike Gallo, will serve as instructors at the clinic. Approximately 250 children, ages 6-16, are expected to attend.
"Through our strong partnership with Wood Gutmann & Bogart and the MLBPAA, we are very excited to bring the Legends for Youth baseball clinic to young baseball fans and the community with the help of some great players," said Kristy Kendle, vice president and regional distribution leader with The Hanover. "We hope that through their experience at the clinic, interacting with these legends of the game, the kids will be inspired to give their very best effort and achieve their full potential, whether it is on the baseball diamond or in the classroom."
The clinics focus on helping youth develop fundamental baseball skills, build self-respect and confidence, as well as improve their sense of responsibility. The former MLB players will work with the children at various training stations, including pitching, batting and catching. The goal of the program is to teach important skills that will help the participants excel at home and at school.
"We are proud to be a part of this great event and to help bring the Legends for Youth baseball clinic to Costa Mesa," said Kevin Bogart, managing partner at Wood Gutmann & Bogart. "The Hanover Insurance Group and MLBPAA are all great partners in this effort and it couldn't be done without them."
Online registration is encouraged through MLB Alumni at www.baseballalumni.com. In-person registration begins at 8:30 a.m. if space is still available. Children will receive free T-shirts and a healthy lunch, as well as enjoy an autograph and photo session with the players.
The clinic will be held at the Vanguard University Baseball Field, 55 Fair Drive, Costa Mesa, CA 92626. For more information about the Santa Ana Legends for Youth baseball clinic or other baseball clinics with the MLBPAA, see http://tinyurl.com/ocevfyh .
ABOUT THE MLBPAA LEGENDS FOR YOUTH PROGRAM
Each year, the MLBPAA Legends for Youth program gives thousands of children across the country a chance to learn baseball fundamentals and life skills from former Major League Legends. This year alone, the program will conduct over 100 free events around the United States and will also visit international locations such as Puerto Rico and Australia.
Since its inception in 1982, the Alumni Association is a non-profit organization that was formed to promote the game of baseball, raise money for charity, inspire and educate youth through positive sport images and protect the dignity of the game through its former players. To find out more about the MLBPAA's Legends for Youth program, you can visit their Web sites at www.baseballalumni.com.
ABOUT WOOD GUTMANN & BOGART INSURANCE BROKERS
Founded in 1985, Wood Gutmann & Bogart Insurance Brokers is a leading full service regional insurance brokerage firm providing a complete range of commercial, personal and employee benefits products and services. WGB was ranked one of Insurance Journal's "Top 100 Independent P&C Insurance Agencies" and one of the "Best Independent Agencies to Work For" in the West. They were also named one of "Orange County's Best Places to Work" by the Orange County Business Journal and ranked by Inc. Magazine as one of the "Fastest Growing Private Companies in America."
ABOUT THE HANOVER
The Hanover Insurance Group, Inc., based in Worcester, Mass., is one of the top 25 property and casualty insurers in the United States. For more than 160 years, The Hanover has provided a wide range of property and casualty products and services to businesses, individuals, and families. The Hanover distributes its products through a select group of agents and brokers. Through its international member company, Chaucer, The Hanover also underwrites business at Lloyd's of London in several major insurance and reinsurance classes, including marine, property and energy. For more information, please visit hanover.com.
###
CONTACT:
Henry Stimpson, Stimpson Communications, 508-647-0705, Henry@StimpsonCommunications.com
Karen O'Neil, Media Relations, Hanover, koneil@hanover.com, (508) 855-6367