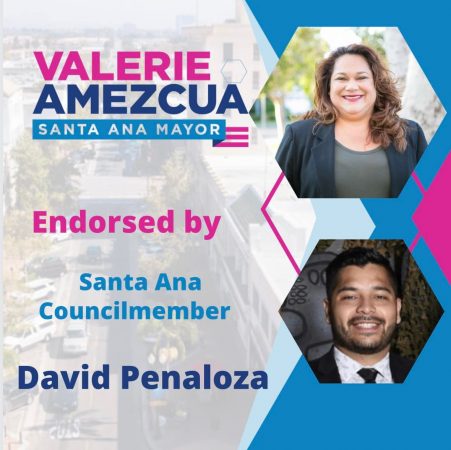 Santa Ana residents will be able to vote for a new Mayor in November as the current Mayor, Vicente Sarmiento, opted to leave the office in his first Mayoral term – running instead for the O.C. Board of Supervisors.
Who will you vote for in the Santa Ana Mayoral Election in November?
Two mayoral candidates have already announced their campaigns – Valerie Amezcua, an SAUSD Trustee who retired from the OC Probation Department and Sal Tinajero, a former Santa Ana City Councilman who currently serves as a Trustee for the Rancho Santiago Community College District. Tinajero's official Facebook campaign page shows only 79 followers while Amezcua's page already has 1.4K followers.
Tinajero is allied with Sarmiento and falls into the extremely liberal anti-police Berniecrat camp while Amezcua has made it clear that she supports law enforcement. That makes sense as she spent her career in law enforcement at the OC Probation Department.
We hear that former Santa Ana City Councilman Jose Solorio is pondering running for Mayor as well. He is apparently behind a recent survey that was texted to many voters in Santa Ana. Solorio probably has the largest campaign war chest however he did not do well in the last Mayoral election back in 2020.
Sarmiento won the 2020 Santa Ana Mayoral election with only 33% of the vote. Claudia Alvarez was the runner-up in that race with 21.6% of the vote. She has since been elected to the OC Superior Court as a Judge. That means we won't see her run for any other local races again. Ceci Iglesias, a former Santa Ana City Council Member and a former SAUSD Trustee, came in third in that Mayoral race with 21% of the vote. While she has not yet shown interest in running again in November she would be an intriguing candidate as a registered Republican in a city that is majority Democrat. Solorio only garnered 16.3% of the vote in the 2020 Mayoral race. George Collins, a City Council gadfly only got 5.8% of the vote in the 2020 Mayoral race.
Sarmiento has been a disaster for Santa Ana with is anti-police positions as well as his support for other radical policies such as rent control. Voters will have an opportunity to turn the page in November. But will they elect a Mayor who supports the police, in Amezcua, or another liberal like Tinajero who will continue Sarmiento's policies?